This article is more than 1 year old
Huawei's first Google-free phone stripped and searched: Repair not too painful... once you're in
Mate 30 Pro's modular innards praised, but glue still abundant
The good geeks of iFixit have ripped open Huawei's first Google-free handset, the Mate 30 Pro, to find a serious battery powering the big screen and sophisticated camera setup.
The mobe has a 6.53" curved OLED display, a Huawei Kirin 990 processor with 8-core CPU, 16-core Mali-G76 GPU and a neural processing unit. It also has an underscreen fingerprint sensor, facial recognition hardware and gesture recognition.
All four lenses were extracted from the back of the phone. These are a 40MP, f/1.8 CineCamera linked to a 1/1.54" IMX608 sensor, a 40MP f 1/1.6 SuperSensing camera onto a 1/1.7 IMX6000 sensor, an 8MP f/2.4 telephoto lens capable of 3x optical zoom, 5x hybrid zoom and 30x digital zoom and a 3D depth-sensing camera for real-time video effects with an IMX316 sensor. The SuperSensing lens has claimed performance of 256x ultra-slow motion video capture at 7,680FPS. The teardown crew spotted a small board linked to this camera, which they assume plays a role in processing the images for slow motion.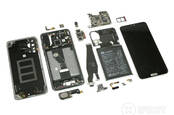 All the king's horses and all the king's men could probably put Huawei's P20 Pro together again
READ MORE
There are another two cameras and a lens for gesture sensing at the front of the phone.
The iFixit lab was impressed with the Mate 30's battery: "The 4500 mAh cell is rated at 3.85 V, and a whopping 17.32 Wh of total power. That's a bit more than the 16.04 Wh from the Mate 20 X Pro or the P30 Pro. The iPhone 11 Pro Max trails behind at 15.04 Wh."
The phone's storage is provided by 8GB LPDDR4X SDRAM from SK Hynix with the SoC Kirin 990 layered underneath and 256GB universal flash storage from Kioxia (Toshiba).
The gang was also keen on the fact that the USB port and its interconnect, the daughter board and SIM card slot, the loudspeaker and the optical fingerprint scanner are all modular and replaceable.
The phone's speaker uses the screen's structure to amplify sound instead of the normal earpiece speaker.
The screwdriver-botherers were pretty impressed overall with the phone's modular design. It also uses standard Philips screws. But they did note that a glued-down front and back does mean a slow start to any repair or replacement process, which resulted in a middle-of-the-road five out of 10 repairability score. Could be better, could be worse. ®