Five new players – including Blue Origin and SpaceX – are now in NASA's race to send landers to the Moon
Pool of companies itching for a slice of the $2.6bn contracts has now grown to 14
---
A total of 14 companies have now entered the race to develop landers to deliver goodies to the Moon as NASA plans to send the first woman and the next man to our nearest rocky companion by 2024.
Five vendors joined the growing list on Monday, according to a media teleconference broadcast on NASA Live.
Some of the most recognizable names include Blue Origin and SpaceX, founded by tech billionaires Jeff Bezos and Elon Musk. Other lesser known corps include Ceres Robotics, geared towards AI and space robots, Tyvak Nano-Satellite Systems, focused on building tiny satellites and CubeSat products, both based in California, and the Sierra Nevada Corporation, an aerospace biz based in Nevada.
NASA regularly searches for companies to partner with for its spaceflights. None are more prestigious than crewed missions. The Commercial Lunar Payload Services (CLPS) initiative was set up for candidates to win prized contracts to help NASA with its goal of launching the first woman and man onto the Moon as part of its Artemis program.
"The CLPS initiative was designed to leverage the expertise and innovation of private industry to get to the Moon quickly," said Thomas Zurbuchen, associate administrator of the Science Mission Directorate at NASA. "As we build a steady cadence of deliveries, we'll expand our ability to do new science on the lunar surface, develop new technologies, and support human exploration objectives."
"Buying rides to the Moon to conduct science investigations and test new technology systems, instead of owning the delivery systems, enables NASA to do much more, sooner and for less cost, while being one of many customers on our commercial partners' landers," Steve Clarke, deputy associate administrator for exploration in NASA's Science Mission Directorate, added.
Now, the pool of possible candidates to help NASA deliver scientific payloads and eventually astronauts too has widened to 14 companies.
Brent Sharwood, vice president of Advanced Development Programs for Blue Origin, said the company's Blue Moon lander was a "big one" for payload capacity with enough power to withstand lunar nights.
"We think this lander has great capability for great, diverse missions, and we're really anxious about going back to the Moon." Sharwood did not reveal any more details, however, and avoided answering questions about whether Blue Origin was ready and if it would conduct test flights.
SpaceX was a little more forthcoming. Gwynne Shotwell, president and COO of the Spacex biz, said she hoped that its Starship spacecraft, designed as a cargo and passenger vehicle, would be ready by 2022 and would be launched by a reusable rocket.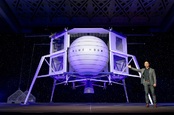 Billionaire Bezos unveils plans to land humans on Moon, with a little help from some old friends
READ MORE
Some of the other companies, however, are aiming towards lunar landers that carry scientific payloads only. Ceres robotics CEO Michael Sims wants to send a rover to the moon's South Pole.
"Small players bring a creativity and an agility to the mix," he said. "Ceres is focused on planetary surfaces. Moving forward to the Moon, we're delighted to have the opportunity to stand on the soldiers of giants of NASA and other corporations."
The CLPS contracts have a total combined value of a $2.6bn. The 14 companies in the pool will be allowed to bid for contracts, and NASA will award them based on technical capabilities, price, and schedule.
Other US companies in the competitive pool, include Astrobotic Technology, Pittsburgh, Deep Space Systems, Colorado, Draper, Massachusetts, Firefly Aerospace, Texas, Intuitive Machines, Houston, Lockheed Martin Space, Colorado, Masten Space Systems, California, Moon Express, Florida and Orbit Beyond, New Jersey. ®