This article is more than 1 year old
Who loves Brexit? Irish distributors ... after their sales jump by a third
Analyst says firms insuring against hard exit by the UK
Figures from tech industry analyst Context show a remarkable jump in server, storage and networking sales in the Republic of Ireland through the last two quarters, pointing to companies continuing to invest in insurance against a hard Brexit.
Against a backdrop of falling European sales, UK sales slumped 14 per cent in the third quarter, while sales in Ireland jumped 34.8 per cent in the second quarter and 26 per cent in the third quarter of 2019 compared to the same periods last year.
Context found new servers and server upgrades played an equal role in pushing growth, while data centre categories like blade and high-end rack servers both enjoyed an uptick in sales. It believes companies are shifting storage and data centre operations to European-regulated territory to insure against Brexit-related compliance hassles.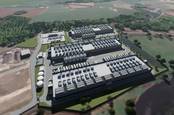 Echelon gets the upper hand: Scores final nod for 100MW bit barn campus in Arklow, Ireland
READ MORE
Storage sales are also up strongly – 92 per cent more addressable gigabytes were sold in Q3 2019 compared with Q3 2018.
Gurvan Meyer, market and business enterprise analyst at Context, said: "These figures suggest that, with the Brexit deadline looming, companies have started to get real about the need to have backup on EU soil to avoid data compliance issues if the UK leaves the EU on a no-deal basis or with a light deal."
He added: "There is little doubt that the current delays in Westminster are working in Ireland's favour, but the country has an advantageous business and digital tax environment and state-of-the-art off-island fibre connectivity that make it an attractive place to settle for digital companies looking for a European home."
There are 55 active data centres in Ireland and another 35 in the pipeline – and eight of those are already under construction.
Gurvan said sales over the next two quarters, and of course the transition period, would show if the growth was solely Brexit-related. ®