IBM, Microsoft and Linux Foundation link arms to fight patent trolls with 'multimillion' scheme
Linux was a 'cancer' but Microsoft is now defending it
---
IBM, Microsoft and the Linux Foundation have partnered with the Open Invention Network (OIN), a company formed to protect Linux from patent threats, to take on "Patent Assertion Entities", also known as patent trolls.
Specifically, the group will help fund the Open Source Zone of Unified Patents, an organisation which provides legal services to deter "unsubstantiated or invalid patent assertions".
The move had already been flagged at the Open Source Summit in Lyon last month, but the identity of the participating companies was not then known. OIN CEO Keith Bergelt spoke to The Register about the announcement. Although we have had a Linux-friendly Microsoft for a few years now, Bergelt, a veteran of patent battles against Microsoft, is by the sound of it still coming to terms with how things have changed.
"It was historic and very important and symbolic for IBM and Microsoft to work together to support freedom of action in open source. Microsoft for several years had been one of the most significant threats to open source," he told us.
There is currently a high-profile patent case against the Gnome Foundation, but Bergelt said this was not the reason for the pivot towards taking on parent trolls.
"Gnome is just a further reinforcement of the fact the threat exists. It wasn't a motivating factor, this has been in the works for a year and very directly for five months. These things take time to put together," he said.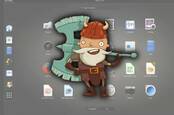 Hell hath GNOME fury: Linux desktop org swings ax at patent troll's infringement claim
READ MORE
Bergelt added that defending against patent trolls is not an altogether new thing. "This is a more explicit pivot for OIN but out of $105m that we've expended on the acquisition of patents, 15 per cent of the $105m has been spent on purchasing patents that were otherwise meant for trolls, or may be used by trolls," he said.
OIN will support the legal efforts of organisations defending low-quality patent claims, including in some cases financial support. "We need to make sure that everybody is protected and well supported regardless of their financial position," he said, "because we are all negatively affected by a failure to properly defend."
It is not always possible to fight patent claims on the basis of prior art or other evidence of low quality, he said. "There are some patents that we look at and think, if they've already been tested through a pretty solid IPR (Inter Partes Review), that there may be other ways we have to deal with the issue."
"We're in contact with RPX and AST and other communities that are concerned about troll risk, and we are prepared to work in combination with them to syndicate capital to be able to make larger acquisitions that don't necessarily lend themselves to being solved by the solutions that Unified offers. We're prepared to act in concert with others to solve patent risks," concluded Bergelt. ®