This article is more than 1 year old
No wonder cops are so keen on Ring – they can slurp your doorbell footage with few limits, US senators complain
Everyone's Ring to rule them all and in the narc-fest bind them
Amazon's camera-infused doorbell biz Ring offers virtually nothing in the way of privacy or civil-rights protection for the surveillance video it collects and shares with police – according to US Senator Edward Markey (D-MA).
On Tuesday, Markey said an inquiry he'd launched in September to assess Ring's corporate privacy policies, in America at least, revealed "alarming disregard" for citizens' privacy and data protection. Noticeably, Ring front-door cameras provided video footage to the police to store, analyse, and share, with virtually no restrictions.
On Wednesday, US Senators Ron Wyden (D-OR), Chris Van Hollen (D-MD), Chris Coons (D-DE), and Gary Peters (D-MI), joined Markey to pose additional questions about Ring's data oversight.
Markey sent a letter to Amazon chief Jeff Bezos in September asking him to explain how Ring encourages customers to share their video with law enforcement, the number of police departments that receive Ring doorbell video, data and civil rights protection practices required of these third-parties, and so on.
Ring has a Neighbors app through which users can share information, including their doorbell surveillance videos, with other users. The company also provides a Neighbors Portal so that the cops can share public safety information and use the Video Request tool to obtain users' videos. It has partnered with 405 police departments around the US to make Ring video available for investigations.
In other words, and to be clear, punters are encouraged to share their doorbell footage with their neighbors, which can then be requested by officers via the portal.
Markey and the other Democratic senators are thus concerned that Ring is making video available without adequate attention to the social and civic consequences.
Advocacy organizations have raised similar concerns. In August, the Electronic Frontier Foundation warned that Ring's police partnerships, in the absence of adequate rules, pose "a grave threat to the privacy of all people in the community," potentially chill political canvassing and community organizing, and enable racial profiling.
Amazon answered Markey's inquiries in September and November but the company's responses have so far failed to satisfy.
"Amazon Ring's policies are an open door for privacy and civil liberty violations," said Markey in a statement. "If you're an adult walking your dog or a child playing on the sidewalk, you shouldn't have to worry that Ring's products are amassing footage of you and that law enforcement may hold that footage indefinitely or share that footage with any third parties."
Markey said his investigation had found:
Ring has no security requirements for the law enforcement offices that get access to users' footage
Ring has no restrictions on law enforcement sharing users' footage with third parties
Ring has no policies that prohibit law enforcement from keeping shared video footage forever
Ring has no evidentiary standard for law enforcement to request Ring footage from users
Ring refuses to commit to not selling users' biometric data
Ring has no oversight/compliance mechanisms in place to ensure that users don't collect footage from beyond their property
Ring has no oversight/compliance mechanisms in place to ensure that users don't collect footage of children
Ring has no compliance mechanisms in place to prohibit law enforcement from requesting and obtaining footage that does not comply with Ring's Terms of Service
Ring provided this statement to The Register via email with the stipulation that we attribute it to an unnamed spokesperson rather than a specific individual: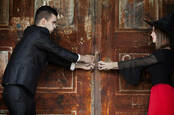 Can't you hear me knocking? But I installed a smart knocker
READ MORE
"Ring users place their trust in us to help protect their homes and communities, and we take that responsibility very seriously. Ring does not own or otherwise control users' videos, and we intentionally designed the Neighbors Portal to ensure that users get to decide whether or not to voluntarily provide their videos to the police. Details about how we work with law enforcement and how we protect user privacy can be found in the following blog post by Jamie Siminoff, founder of Ring."
Senators Markey, Wyden, Van Hollen, Coons, and Peters have more questions for the vid biz, enumerated in another letter sent to Bezos on Wednesday, this time focused on the national security implications.
The letter cites recently patched security flaws and a report that Ring employees in the Ukraine were granted access to customer videos without restrictions. It also expresses concern about the possibility that Ring could integrate its video platform with AWS's facial recognition technology.
Bezos has been asked to reply by January 6, 2020. ®