The shares of satellite operators continued to plummet today after it became clear that the Federal Communications Commission (FCC) was going to seize valuable spectrum off them and resell it to mobile phone companies.
On Monday, FCC chair Ajit Pai tweeted that he was going to back a public auction of the so-called C-Band spectrum running between 3.7 to 4.2GHz in order to provide enough bandwidth for next-generation 5G networks.
Shares in Intelsat nosedived by 40 per cent on Monday and dropped a further 24 per cent on Tuesday. Likewise, shares in the other main satellite company that currently uses the spectrum, SES, collapsed by 23 per cent.
By going for a public auction, Pai effectively shut the door on a proposal by satellite companies – which have traditionally controlled the relevant spectrum space – to run a private auction. A group of those companies, calling themselves the C-Band Alliance, have been desperately trying to persuade the FCC and lawmakers to go with their solution, in large part because the proceeds from the auction will go to… themselves.
The only argument in their favor was that they threatened massive legal action if the FCC effectively took the spectrum off them. But money talks and lawmakers have already started eyeing up how much money they can make from the auctions by rerouting the dosh to the states through rural broadband programs.
In a somewhat shameless inquiry at a Congressional hearing on the topic last month, Representative Susan Brooks (R-IN) asked if there are "some requirements that the FCC could incorporate into its order to make a private sale much more rural friendly?" Basically meaning, will my state still get a ton of money from the private auction? She got a yes but there was another factor at work: the White House.
Mexico will pay for it
President Donald Trump is also eyeing up the billions of dollars that will likely result from a public 5G auction – the proceeds of which will go into the Treasury. Observers warns that the president is likely to see that money as a useful fund that he can tap for pet projects. Top of the list is likely to be construction of a vast border wall with Mexico that Congress has repeatedly refused to foot the full bill for.
In a desperate attempt to build support for its private auction plan, the C-Band Alliance suddenly discovered it would able to free up even more spectrum for 5G communications than it had previously estimated: from 200MHz to 300MHz.
But it was all for naught. Former mobile phone company exec Pai made his decision and for once it may actually be in US citizens' interests – although that is more by accident than anything else.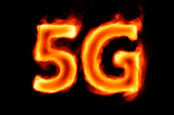 Europe to straggle Japan, China, US and Korea in 5G adoption stakes
READ MORE
Pai still needs the votes of two other commissioners to pass the measure – but the three Republican commissioners are thick as thieves so that's pretty much a formality. The decision may even be joined by the Democratic commissioners in this case, although there is liable to be an argument over where the money goes.
The FCC won't end up voting until early next year but Pai concluded in his tweets – because that's how government works these days, over Twitter – "After much deliberation and a thorough review of the extensive record, I've concluded that the best way to advance these principles is through a public auction of 280 megahertz of the C-band conducted by the FCC's excellent staff."
Why was Pai so undecided? It turns out because his former employer – Verizon – was actually in favor of the private auction. Why? Because it was going to be quicker to run than the public auction, meaning that Verizon was going to be able to catch up with rival AT&T faster (AT&T has much more spectrum to hand and so can roll out 5G faster and more broadly).
That certainly explains why, soon after announcing he preferred the public auction route, Pai went out of his way to stress that he's "confident they'll quickly conduct a public auction that will give everyone a fair chance to compete for this 5G spectrum". ®