This article is more than 1 year old
Security giants line up behind push to stop stalkerware being used on smartphones
Coalition aims to help users spot and remove covert trackers
A collection of security, privacy, and digital rights groups have joined up to push a campaign against stalking software.
Dubbed the Coalition Against Stalkerware, the campaign will aim to help victims of stalking and domestic violence spot when their mobile phone (or other device) has been infected with tools designed to covertly track their activities.
The coalition will count among its members Kaspersky, Norton LifeLock (the security shop you may remember as Symantec), Malwarebytes, G DATA, and Avira, as well as the Electronic Frontier Foundation, and the National Network to End Domestic Violence.
Among the first efforts of the groups is to set a working definition for what exactly counts as "stalkerware." While spyware and unwanted tracking tools have long been in use, there are a particular class of apps that have been used by abusers and stalkers to keep tabs on their victims without knowledge or consent.
Here is the coalition's formal definition:
Stalkerware is software, made available directly to individuals, that enables a remote user to monitor the activities on another user's device without that user's consent and without explicit, persistent notification to that user in order to intentionally or unintentionally facilitate intimate partner surveillance, harassment, abuse, stalking, and/or violence.
"Stalkerware, used for spying on phones and computers in domestic abuse or harassment situations, is a very serious problem, and it often goes hand-in-hand with other forms of abuse, up to and including physical violence," said Eva Galperin, EFF director of cybersecurity and a longtime anti-stalkerware activist.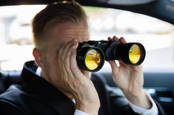 Fresh stalkerware crop pops up on Google's Android Play Store, swiftly yanked offline
READ MORE
"The ubiquity of stalkerware is a complex problem and we need stakeholders from all parts of society in order to fight it effectively."
In addition to protecting the victims of domestic violence and tracking, the coalition also notes that it is looking to stop the use of stalkerware on a larger scale by oppressive governments. In many cases, the same tools and technologies offered by stalkerware apps are used to similar ends by governments for human rights abuses.
"Just like the abuse it can enable, stalkerware also proliferates away from public view, leaving its victims and survivors in isolation, unheard and unhelped," noted David Ruiz, online privacy writer with Malwarebytes.
"Forming and fighting together with the Coalition against Stalkerware is the next, necessary step in stopping this digital threat—a collaborative approach steered by the promise of enabling the safe use of technology for everyone, everywhere." ®