This article is more than 1 year old
Amnesty slams Facebook, Google over 'pervasive surveillance' business model
Rights warriors want governments to actually, y'know, do something – anything
Amnesty International says the "pervasive surveillance" practiced by Facebook and Google represents a threat to human rights, a claim the two companies dispute.
On Thursday in the UK, the advocacy group, known for documenting torture and ethnic cleansing, published a report taking the two ad giants to task for business models that depend on harvesting personal data.
"Google and Facebook dominate our modern lives – amassing unparalleled power over the digital world by harvesting and monetizing the personal data of billions of people," said Kumi Naidoo, Secretary General of Amnesty International, in a statement.
"Their insidious control of our digital lives undermines the very essence of privacy and is one of the defining human rights challenges of our era."
The organization's report, "Surveillance Giants: How the Business Model of Google and Facebook Threatens Human Rights," explores how the companies do business, how that business affects privacy and influences society, how their market power limits accountability, and what can be done to change things.
"The companies' surveillance-based business model forces people to make a Faustian bargain, whereby they are only able to enjoy their human rights online by submitting to a system predicated on human rights abuse," the report says.
"Firstly, an assault on the right to privacy on an unprecedented scale, and then a series of knock-on effects that pose a serious risk to a range of other rights, from freedom of expression and opinion, to freedom of thought and the right to non-discrimination."
Free expression, however, may pose problems when it's free of oversight, as Facebook demonstrated by failing to police hate speech in Myanmar.
The report acknowledges that other large companies participate in "surveillance capitalism," notably Amazon and Microsoft, as well as data brokers and telecom companies. But it singles out Facebook and Google for their dominance of specific markets.
Excluding China – which represents a separate surveillance story – Facebook has about 70 per cent of social media users and 75 per cent of mobile messaging users (thanks to WhatsApp), based on third-party statistics cited in the report. Google answers 90 per cent of internet searches, owns YouTube, the second largest search service and leading video platform, dominates the browser market with Chrome, and oversees the largest mobile operating system, Android, with some 2.5bn monthly active devices.
Between them, the two companies collect 60 per cent of online ad revenue and account for 90 per cent of the growth in the digital ad market. And the two firms keep trying to expand their offerings with data-dependent projects like Facebook's Libra and Google's interest in Fitbit and health stats, not to mention its plan to provide checking accounts tied to Google Pay.
The report cites various privacy scandals in which Facebook and Google have been involved, like Cambridge Analytica's misuse of Facebook data, Google's geolocation tracking that persisted even when disabled, and YouTube's algorithmic promoting of false and incendiary commentary. It also discusses some specific harms arising from behavioral ad targeting like discrimination.
Amnesty International concludes that further government regulation, with a focus on human rights, is necessary.
"Governments must take positive steps to reduce the harms of the surveillance-based business model – to adopt digital public policies that have the objective of universal access and enjoyment of human rights at their core, to reduce or eliminate pervasive private surveillance, and to enact reforms, including structural ones, sufficient to restore confidence and trust in the internet," the report says.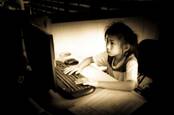 Amnesty slaps Google amid crippled censored China search claims
READ MORE
In a statement emailed to The Register, a Facebook spokesperson said the company fundamentally disagreed with Amnesty's findings, a position the company addresses more fully in a letter included in the report.
"Facebook enables people all over the world to connect in ways that protect privacy, including in less developed countries through tools like Free Basics," the company spokesperson said. "Our business model is how groups like Amnesty International – who currently run ads on Facebook – reach supporters, raise money, and advance their mission."
Asked to comment, Google didn't directly address the report. Instead, it acknowledged that data is important and noted that the company has been improving the mechanisms available to deal with data.
"We recognize that people trust us with their information and that we have a responsibility to protect it," a company spokesperson said in an emailed statement. "Over the past 18 months we have made significant changes and built tools to give people more control over their information." ®