This article is more than 1 year old
Why can't you be a nice little computer maker and just GET IN THE TRUNK, Xerox tells HP in hostile takeover alert
Did you copy that?
Xerox is escalating its takeover efforts against HP Inc with an explicit threat that it could soon begin a hostile takeover.
An open letter to HP's board posted on Thursday demands that the printer and PC arm of the legendary technology biz agree to enter the next phase of merger talks or face a share buyout campaign.
In other words, unless HP agrees to move forward with the merger proposal, Xerox will go directly to its shareholders and buy enough of a stake in HP to oust the board entirely and put its own people in charge.
"In light of favorable markets and terms, Xerox is determined to capture the compelling opportunity for our respective shareholders and strongly encourages HP's Board of Directors not to sanction further delay in light of our extensive discussions to date," Xerox says in its letter to HP.
"Xerox remains willing to devote the resources necessary to complete mutual due diligence over the next three weeks and confirm the substantial cost and revenue synergies that we both believe could be achieved through a combination."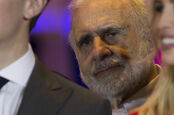 Icahn smell money! Corporate raider grabs $1.2bn of HP stock to push for Xerox merger
READ MORE
The demand comes three days after HP rejected Xerox's initial proposal to acquire it for $33.5bn, claiming the offer undervalues its own stock and raising doubts about Xerox's own viability.
Currently, the two sides are at odds over due diligence, the process of one company cracking open the other's books to get a good look at their inner workings and financial state.
HP says it will not consider any merger with Xerox until it gets the ability to perform due diligence of the prospective buyer, while Xerox says that it has a problem with HP's demand only going one way.
"You have requested customary due diligence, which we have accepted, but you have refused to agree to corresponding due diligence for Xerox," the letter reads.
"Any friendly process for a combination of this type requires mutual diligence—your proposal for one-way diligence is an unnecessary delay tactic."
HP did not respond to a request for comment on the letter.
Should Xerox opt to go the hostile takeover route, it would have at least one powerful ally in HP's ranks. Activist investor Carl Icahn, who owns more than $1bn in HP shares, has already thrown his backing behind the Xerox buyout, calling the proposed merger a "no-brainer" for the two tech giants. ®