This article is more than 1 year old
Samsung taking its sweet time delivering Galaxy watches from phone bundle bungle
Chaebol blames 'popularity' for 'slight delay' of 2.5 months
Samsung is getting flak from punters waiting an age for delivery of bundle deals offered on Galaxy phones back in September.
The offers of free watches with phone purchases were meant to be sent out within 45 days. Buyers had to register online to get their claim validated and start the clock ticking.
But according to an irritated Reg reader and a bunch of posters on Samsung's forums, it might take a bit longer than that to get a watch on your wrist. Some customers claim to have waited two-and-a-half months for delivery.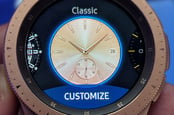 Samsung Galaxy Watch: A tough and classy activity tracker
READ MORE
Anyone contacting the Korean phone behemoth gets the same canned email blaming "popularity" for the "slight delay".
It is not the first bundle balls-up for Samsung – a similar deal offering free earbuds was also hit by unexpected delays.
The latest posters do seem to be finally receiving their watches.
We've contacted Samsung UK for a response. Obviously people who got their watches are too busy softly stroking them to be posting on forums, so we might be looking at a self-selecting sample.
Gartner reckons the total amount splashed on wearables will increase by almost $2bn globally between 2018 and 2020, going from $6.78bn to $8.71bn. Assuming buyers can actually get their hands on them. ®