This article is more than 1 year old
It woz The Reg wot won it! Big Blue iron relics make it back to Blighty
Ancient IBM gear in new home thanks to power of the internet
The team behind the mission to rescue a pair of aged IBM mainframes are celebrating after finally getting the hardware back to Blighty.
The size, weight and delicacy of the ancient machines, along with limited crowdsourced funds, were threatening to put the kybosh on the whole project.
Despite months of searching, they could not find a transport company capable of getting everything back to the UK from its temporary home in a lock-up in Nuremberg, Germany.
The machines were bought thanks to drunken bidding on an internet auction back in May and had to be hastily removed due the imminent demolition of the building. The haul included two IBM 360 Model 20s, punch card readers, tape drives and a set of field engineer's manuals.
Luckily, our last story on the scheme was read by a man called Kevin in Melbourne, Australia. He then noticed a blog post by Dan Apperley at Farnborough-based Sunspeed bigging up the company's skills at shifting computer kit around the world and suggested he get in touch with the IBM boys.
Dan called team leader Adam Bradley and a deal was done at a hefty discount.
Bradley, along with Chris Blackburn and Chris Wilkie headed out to Nuremberg to get the two IBM 360s and assorted other bits of kit ready for the trip back to Blighty.
With a day-and-a-half's labour and the help of their mate from the auction house, Günter Hiller, everything was packed up and safely stowed in Sunspeed's lorry.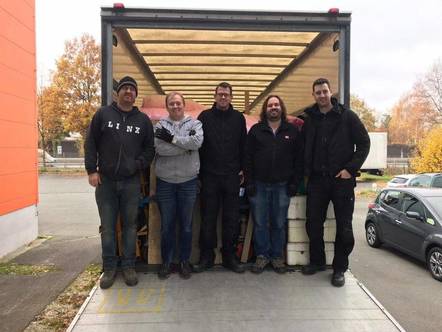 Beer was drunk and sausages eaten before the three flew back to the UK to be reunited with the precious hardware.
Wilkie is also providing the perfect home for the hardware – an ex-MI6 building formerly known as Creslow Transmission Station. It was built in the 1940s as a remote shortwave radio transmission facility.
He got the lease and is in the process of turning it into a modern data centre – he's after an anchor tenant if you fancy having your hardware hosted in an actual secret service facility. In the meantime, he's lending the team a large corner of Creslow Park to set up and restore the mainframes.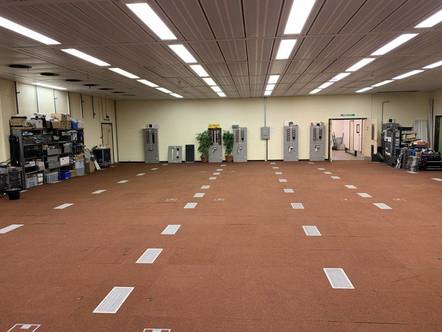 Bradley told us: "Thanks for all your help thus far, we really appreciate it. Without you we certainly wouldn't have found transport so easily or with such fantastic value. Part of the reason we managed to get the cost down so low on the transport (£4,800) was that we had coverage from you, so it has really made a huge difference to the project, and to that end we'd really like to extend our thanks."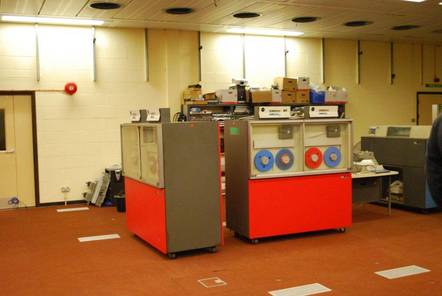 Big congratulations to Adam and the team, and tip of The Reg hat to both Sunspeed and Creslow Park for getting the project this far.
Now all the lads have to do is get everything working again.
More on their blog here if you want to see additional pictures or get involved. ®