This article is more than 1 year old
Dead or alive, you're camming with me, says RoboPup: Bomb squad hires Boston Dynamics Spot to snoop on suspects, packages
Who's a good cyber-boy? Now, please don't kill anyone
Vid Massachusetts' bomb squad have put a Boston Dynamics Spot robot through its paces, making the cops the first US force to deploy the four-legged machine in the field.
Official paperwork, obtained by the American Civil Liberties Union and revealed today, documents the East Coast state's Department of Fire Services, on behalf of the bomb squad, leasing Spot for three months between August 7 and November 5.
The agreement stated the cyber-pup, built by the Softbank-owned robotics upstart, would help officers inspect "potentially dangerous environments which may contain suspects or ordinances." It did not divulge how Spot would be tested exactly, though a promotional video from September shows the 'bot has a long arm capable of gripping handles to open doors and comes equipped with stereo cameras that provide a 360-degree view. See below.
A Massachusetts state police spokesman said the machine was used as a "mobile remote observation device," according to WBUR, a public radio station in Boston. The bomb squad team could have sent out Spot to metaphorically sniff out potential risks, by snapping images of suspects hiding out in buildings, suspicious packages, hazardous chemical spills and so on, so officers could examine dangerous situations remotely.
Basically, it could, in theory, have gone where no bomb-disposal robot has gone before, being programmed to clamber over obstacles, open doors, and what have you, while relaying back footage to its operators.
The metallic canine is capable of tottering at a top speed of three miles per hour, and can run for an average of 90 minutes. Units can also be programmed to conduct specific tasks via an API. They can also carry up to 14 kilograms of stuff, and can operate in environments ranging from a -20 degrees Celsius to 45 degrees Celsius.
Although it's possible to imagine arming Spot with firearms for combat reasons, Michael Perry, Boston Dynamics VP of business development, said the police could only use the device for monitoring purposes. As part of the lease agreement, Massachusetts State Police apparently accepted that the robot is not allowed to "physically harm or intimidate people."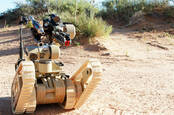 The US Army recruits
WALL-E

Chris H as its next-generation bomb disposal robot

READ MORE
Before you start scoffing, at least one cop bot has slain in the past. In 2016, a murderer who had killed five police officers in Dallas, Texas, died when a plod robot loaded with explosives was sent into his lair where he was holed up, and exploded.
Kade Crockford, Technology for Liberty program director at the ACLU of Massachusetts, told The Register that law enforcement should be more upfront about it's testing new technology.
"There is a lot we do not know about how and where these robotics systems are currently deployed in Massachusetts," said Crockford. "All too often, the deployment of these technologies happens faster than our social, political, or legal systems react. We urgently need more transparency from government agencies, who should be upfront with the public about their plans to test and deploy new technologies."
Spot was apparently deployed in two real-life incidents while it was leased. It's not clear if the bomb squad is still using the machine after the lease period stopped. The Register has reached out to the Massachusetts Department of Fire Services and Boston Dynamics for comment. ®