No wonder Bezos wants to move industry into orbit: In space, no one can hear you* scream
* And by you, we mean slain or injured Amazon warehouse workers
---
Amazon, a gigantic cloud provider with a department store in the basement, is having a crazy news week. Here's a quick summary.
Bezos goes full 'Outer Worlds'
Amazon's zillionaire supremo Jeff Bezos says that the future of manufacturing and materials processing is in spaaaace.
Speaking to a crowd at the San Diego Air and Space Museum in the States, the Beez said that in order to protect the Earth's environment and natural resources, mankind will eventually need to move all of its heavy industry to another celestial body, most likely the Moon, for starters.
"I believe that, one day, Earth will be zoned residential and light industry," Bezos told the assembled crowd at the weekend. "We'll move all heavy industry into space. That's the only way, really, to save this planet."
That would require "real operational usability," he said, meaning cheap, reusable rocketry. And by happy chance, he is developing just such hardware – although his Blue Origins rocket biz is well behind rival SpaceX in this area.
"You want a dynamic civilization that continues to use more and more energy and more and more resources and build amazing things," he said. "And to do that, you have to move out into the solar system. The moon is a huge gift to us if we want to have a space-faring civilization.
There may be another benefit for Bezos: those lunar factories would be some 238,000 miles outside the jurisdiction of Earth's workers' compensation rules…
Study condemns Amazon's safety record
Amazon's warehouses in America are more than twice as dangerous for workers than similar fulfillment centers, in large part because of the high demands the retail giant places on getting orders out as fast as possible, it was claimed yesterday.
The Atlantic and Reveal, a unit of the Center of Investigative Reporting, reported on Monday: "Reveal amassed internal injury records from 23 of the company's 110 fulfillment centers nationwide.
"Taken together, the rate of serious injuries for those facilities was more than double the national average for the warehousing industry: 9.6 serious injuries per 100 full-time workers in 2018, compared with an industry average that year of four."
The article goes on to claim that workers report having to put their bodies at risk, picking up large packages with poor technique or doing unsafe maneuvers in order to keep up with the demand for speedy fulfillment.
In one particularly appalling incident in 2017, an employee in Indiana was crushed to death by a forklift, only to have the matter, allegedly, swept under the rug by state authorities who didn't want any outcry over the death to dissuade Amazon from selecting Indiana for its second headquarters.
State officials, it is claimed, worked with Amazon management to shift the blame from the tech giant to the dead worker, advised Bezos & Co how to minimize any fines from the accident, and threatened a state safety inspector with the sack if he objected to his reports being rewritten.
Amazon did not respond to a request for comment on the report.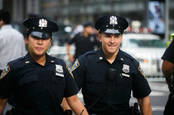 No wonder cops are so keen on Ring – they can slurp your doorbell footage with few limits, US senators complain
READ MORE
Ring rumored running recognition recon
Amazon's Ring subsidiary also made headlines this week when leaked internal documents appeared to indicate the video-surveillance outfit was working on a "watch list" program that would analyze footage from people's doorbell cameras, and alert owners whenever someone who had been deemed "suspicious" appeared in the field of view.
"It's unclear who would have access to these neighborhood watch lists, if implemented, or how exactly they would be compiled, but the documents refer repeatedly to law enforcement, and Ring has forged partnerships with police departments throughout the US, raising the possibility that the lists could be used to aid local authorities," The Intercept noted.
"The documents indicate that the lists would be available in Ring's Neighbors app, through which Ring camera owners discuss potential porch and garage security threats with others nearby."
"The features described are not in development nor in use, and Ring does not use facial recognition technology," the doorbell CCTV maker told The Register today. "Privacy is of the utmost importance to us, and any features we do develop will include strong privacy protections and put our customers in control." ®