Amazon straightens up its IoT house, complete with virtual Alexa, ahead of Las Vegas shindig
Coffee machines will listen to you if vendors implement it
re:Invent AWS has unveiled a flurry of updates to its IoT platform, including secure tunnelling, fleet provisioning, Docker containers on edge devices, and Alexa voice support on devices with 50 per cent less power than was previously required.
The firm's re:Invent shindig is on in Las Vegas next week. With 50,000 or more attendees and all eyes on AWS as it seeks to reinforce its status as the dominant cloud provider, there will be plenty of announcements – so much so, that some of teams on Amazon's cloudy arm, it seems, prefer to make their statements the week before, in order not to be overlooked.
The IoT team appears to be one of them. Yesterday was declared AWS IoT Day as the cloud giant made eight announcements relating to its IoT platform.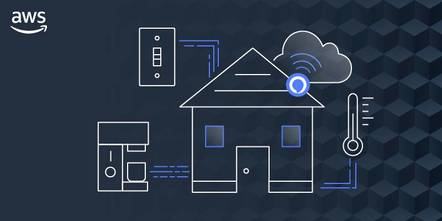 More IoT devices will be able to listen to you thanks to Alexa for AWS IoT Core
AWS IoT Greengrass lets you run some AWS services on edge computers, even with intermittent cloud connectivity. These services include Lambda functions, data management and messaging. It runs on Linux (even on a Raspberry Pi) and syncs data with the AWS mothership when it can. IoT devices connect to the Greengrass computer locally. Newly announced is Docker container support in Greengrass, which will simplify deploying applications.
Another new Greengrass feature is a Stream Manager, which lets you process data from IoT devices and stream it to an AWS service such as Kinesis, which accepts data for cloud processing. This kind of edge computing service makes huge sense in many scenarios, where you do not actually need to keep all the data generated by sensors, showing normal operation, but are mainly interested in data which alerts you to something unusual. Discarding all the uninteresting data can improve performance and lower cost.
A third new feature is fleet provisioning. Currently in beta, this service automatically provisions devices with certificates and a private key to secure future connections.
Next up is secure tunnelling. This lets you open a secure session on a device even if it is behind a firewall. An example use case is for managing medical devices in a hospital. It uses MQTT (MQ Telemetry Transport), a lightweight publish-subscribe protocol designed for IoT, to establish the connection.
There is more. Custom domains, now in beta, let you connect to an AWS IoT endpoint; and configurable endpoints enable you to create multiple endpoints in the same account. This could assist migration, creating endpoints that have backwards compatibility with devices already deployed. Enhanced Custom Authentication, also in beta, adds new authentication methods for IoT devices connecting to AWS.
The best (or worst) news comes last. You can now implement Alexa voice input on less powerful devices, thanks to a new virtual Alexa service that runs in the cloud. Voice input will now be possible on devices with less than 1MB RAM and ARM Cortex M class microcontrollers – which means, says Amazon, "device makers can now cost-effectively build new categories of differentiated voice-enabled products such as light switches, thermostats, small appliances and more. This allows end-consumers to talk directly to Alexa in new parts of their home, office, or hotel rooms for a truly ambient experience."
Ambient computing is the notion that rather than computers being things that we are conscious of, like a PC, smartphone or smartwatch, they are things that are built into the environment, so you don't have to think of them.
The light switches will be listening to you. Lovely. ®