This article is more than 1 year old
It's 2019 so, of course, there's alleged ad fraud to the tune of $1bn in tech pushed to doctors
Execs accused of inflating advert views and sales on fondleslabs, signs installed in medical offices
Four execs from a US medical tech upstart have been charged with bilking investors to the tune of more than $1bn.
Outcome Health's co-founder Rishi Shah, its former president Shradha Agarwal, ex-CFO Brad Purdy, and Ashik Desai, who used to be veep of sales, are accused of cooking the company's books – specifically, pump up its revenues – to collect VC investment. In the process, it's alleged, the execs pocketed hundreds of millions of dollars in dividend payouts. Prosecutors claim the scam ran from 2011 to 2017.
Based out of Chicago, Outcome Health installs tablets, screens, and electronic signs in doctor offices and waiting rooms. The electronics provide information for patients and doctors – things like medical diagrams or articles – and, more importantly, occasionally serves up adverts that pay for the screens and turn a tidy profit for Outcome.
Outcome also pitched pharmaceutical companies on a "list-match" service that let the pharma firms select individual doctors who had high prescription rates for expensive drugs and then Outcome would deliberately run advertisements at those offices.
It is those ads that are alleged to be at the heart of the matter. Prosecutors in northern Illinois claimed earlier this month [PDF] the Outcome execs lied about how many ads were served and how much money those ads generated for the business.
This allowed Outcome to rip off advertisers – by charging them for ad views that never happened – and artificially inflate its reported revenues, making it fraudulently more appealing to potential investors than it really ought to be, according to court documents. The investors listed in the indictment include three unnamed venture capital firms and six banks.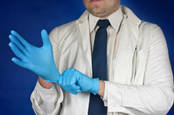 Seriously, this sh!t again? 24m medical records, 700m+ scan pics casually left online
READ MORE
Armed with their cooked books, it is alleged, the four execs then took out a series of funding rounds and loans that between 2016 and 2017 netted $110m, $375m, and $487.5m, respectively. In the process, the executives received dividend payments based on the investments.
"Outcome's former executives and employees allegedly deceived lenders, investors, and their own auditors by falsely representing revenue for additional profit," John Cronan, a principal deputy assistant attorney general, said yesterday.
"The charges announced today demonstrate that lies and deception cannot serve as the basis for any company, including start-up companies, to falsely grow revenue for additional capital and private gain."
The claimed scheme came to light in a newspaper article in October 2017, which questioned Outcome's reported advert views. At the time Shah and Agarwal told staff that they had been misled by other Outcome staff.
In total, the four execs – Shah, 33, of Chicago; Agarwal, 34, of Chicago; Purdy, 30, of San Francisco; and Desai, 26, of Philadelphia – face a total of 26 charges of defrauding or lying to investors. Two outside analysts, Kathryn Choi, 29, of New York City, and Oliver Han, 29, of Chicago, were also indicted for allegedly aiding the group. Prosecutors are also seeking a forfeiture order on the millions of dollars the group collected in dividend payments.
Outcome as a company resolved the case with the Department of Justice late last month when it agreed to pay $70m in restitution and settlements. ®