Updated BT's pipe-laying division Openreach is looking to further dilute its reliance on Huawei by issuing a tender seeking an additional infrastructure supplier to help build an FTTP broadband network.
The Register understands that Openreach will later this week issue a Pre-Qualification Tender for a third FTTP vendor: Huawei and Nokia already supply Openreach with a range of kit that goes to build full fibre inside the exchange, outside in BT's network and in customers' premises.
"We already manage a large and diverse supply chain across our full fibre build, and we're constantly reviewing our options to make sure we can continue to build a high-quality network that offers great value for money," said the BT subsidiary in a statement sent to us via email.
BT is aiming to give four million premises – commercial and residential – a full-fibre diet by March 2021, according to targets established earlier this year. BT also wants 15 million premises on FTTP by the midway point of the next decade. Currently, Openreach's FTTP reaches 1.9 million homes and businesses.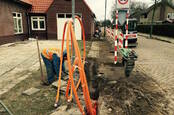 UK's Openreach admits 50k premises on 'gigabit-capable' FTTP network can't get gigabit speeds
READ MORE
In spring, BT CEO Philip Jansen said the company was sitting pretty in a hyper-competitive landscape but it had a "lot of work to do".
"We need to invest in our fixed, mobile and core networks, and we need to invest to overhaul our business to ensure that were using the latest systems and technology to improve our efficiency," he said at the time.
BT said last year it had began pulling Huawei kit from the core of EE's 3G and 4G mobile networks in 2016, the same year it acquired the telco. The incumbent told us at the time it will have ripped out and replaced the Chinese kit-maker's products from EE's core ops by 2020.
According to the National Infrastructure Commission, it will cost a cool £33.4bn to erect and maintain a fibre-optic network across Britain, which is a whopping £11.5bn higher than was initially anticipated.
Bringing another supplier on board will allow BT to bounce all three off against each other when it comes to competitive tender situations. BT's net profits were flat in the first six months of its fiscal year but EBITDA was down.
However, Mark Jackson, editor of ISP Review and a long-term telco engineer, said mixing kit from a range of vendors can result in "long-term differences in capability and performance". He used the example of the "turbulent history of ECI in their FTTC network".
According to one report, bidders – which could include US networking kit providers Cisco and Adtran – are expected to have tender docs completed and in the hands of BT by the early part of January.
Of course, the white elephant in the room here is Huawei, which has endured an unrelenting, US-led campaign against it. The Chinese business has worked with BT for years – since the firm began its 21CN programme to swap its public switched telephone network for IP in 2004 – but the negative publicity from President Trump and his regime over fears of espionage and being in the back pocket of Middle Kingdom's government has impeded Huawei's financial progress and created question marks over its role in Western tech.
The Brit government has still yet to weigh in on whether to include Huawei in the next-generation networks being built – a decision repeatedly delayed since March.
The UK's Science and Technology Select Committee (STSC) found there was "no technical grounds" to bar Huawei from local 5G networks but warned that politically the government should be mindful of "ethical issues" and relations with "allies".
It added that Britain should "mandate the exclusion of Huawei from the core of UK telecommunications networks", the STSC said.
Huawei, of course, has repeatedly denied any wrongdoing, though its software and cybersecurity competence was found by the Huawei Cyber Security Evaluation Centre to contain "serious and systematic defects". The centre – AKA the Cell – allows UK spies at GCHQ to inspect Huawei stuff.
The Reg has asked Huawei to comment.
Updated on 27 November to add:
A day after this story was published, Victor Zhang, Vice-President of Huawei Group sent us a statement:
"We welcome a diverse and competitive market. Diversity leads to greater innovation and ultimately benefits customers.
"Huawei is proud to have been a supplier to BT since 2005, and we will continue to play a key role in supporting BT for building its broadband network. We look forward to a continued partnership that will help build a better connected UK." ®
Similar topics