HPEeeeeek! Our sales have been decimated by worldwide slowdown, trade wars, say execs
Financial numbers fall short of already modest Wall St predictions
---
HPE tried to make the best of a rough quarter and year as the enterprise IT giant turned in lackluster numbers for fiscal 2019.
On Monday, executives blamed a slowing worldwide market for hardware and ongoing trade wars for the nearly 10 per cent slump in sales revenues over the last three months, but remained optimistic for the coming year.
For the fourth quarter of fiscal 2019, ending October 31:
Revenues of $7.2bn were down nine per cent from last year's $7.9bn haul and short of $7.4bn analyst estimates.
Net income of $480m compared to a $757m loss in Q4 FY2018, though that was due mostly to a $1.35bn tax hit HPE absorbed last year.
Earnings per share (non-GAAP) were $0.49, up 14 per cent and just above the $0.46 estimated by analysts.
Hybrid IT revenues were $5.7bn, down ten per cent from $6.3bn last year.
Intelligent Edge revenues of $723m were down six per cent from $773m last year. While HPE Aruba gear sales were down seven per cent, services were up 17 per cent, we note. The services make up 14 per cent of Aruba's sales, though.
Financial Services revenues of $878m dropped six per cent from $939m in Q4 2018.
For the full fiscal year:
Revenues of $29.1bn were a six per cent dip from last year's haul.
Net income of $1.05bn plummeted 44 per cent from $1.9bn in FY2018.
Full year EPS of $1.77 was up 20 per cent from last year.
Hybrid IT revenues of $22.8bn were down seven per cent from $24.5bn last year.
Intelligent Edge revenues of $2.84bn fell just short of 2018's $2.9bn mark.
Financial Services revenues of $507m compared poorly to $543m last year.
Despite both the quarterly and full year numbers being down, CEO Antonio Neri applauded the company for topping its original estimates and being able to squeeze profits out of a tough market.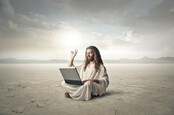 Gospel according to HPE: And lo, on the 32,768th hour did thy SSD give up the ghost
READ MORE
"I am confident in our ability to drive sustainable, profitable growth as we continue to shift our portfolio to higher-value, software-defined solutions and execute our pivot to offering everything as a service by 2022," Neri said in announcing the numbers. "Our strategy to deliver an edge-to-cloud platform-as-a -service is unmatched in the industry."
HPE is also hoping its increased spend on new products pay off. Speaking to analysts on an earnings call, CFO Tarek Robbiati predicted that the money HPE sank into lines like Aruba Networks and its edge compute lines will pay off as the market continues to shift.
"It is a conscious decision we have made to invest in R&D to equip Aruba with a full suite of products," Robbiati said. "We feel that now the company is, from a product portfolio standpoint, well-equipped for the future."
Investors were not so convinced. Shares in HPE were down 4.6 per cent at $16.65 apiece in after-hours trading. ®