Xerox: Prepare to say cyan-ara, HP Inc. We're no paper tiger. We're really very serious about that hostile takeover
Just you wait, we'll do it, we'll force a merger, any moment now – face the fax, pal
Xerox has vowed, again, to launch a hostile takeover of HP Inc by sidestepping the board and going directly to shareholders.
The will-they-won't-they-saga started in the first week of this month when Xerox confirmed it wanted to wed HP at the altar of acquisitions for $33.5bn, a move that received the seal of approval from corporate raider and stockholder in both companies, Carl Icahn.
HP told Xerox it wasn't interested, citing concerns over how its admirer would finance the merger – given HP has a market cap three times the size of Xerox. It also expressed fears over Xerox's future prospects, given its $1bn decline in sales since June 2018. HP also said it could go it alone, and didn't need Xerox, having thought it over.
Unperturbed, Xerox returned to the fray last week, threatening a hostile takeover, only to be knocked back again with HP calling out the lack of response to its questions.
Well, slugger Xerox is back again – and this time it is a lot less friendly. In a letter to HP's CEO and chairman today, Xerox boss and vice chairman John Visentin said: "Your refusal to engage in mutual due diligence with Xerox defies logic."
Visentin said HP shareholders will "realize" an "immediate cash value" – Xerox is offering $17bn in hard dosh – and "enjoy equal participation in the substantial upside expected to result from a combination. Our offer is neither 'highly conditional' nor 'uncertain' as you claim. It does not contain a financing contingency, and the combined company is expected to have an investment-grade credit rating".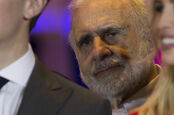 Icahn smell money! Corporate raider grabs $1.2bn of HP stock to push for Xerox merger
READ MORE
The Xerox bigwig reiterated the commercial benefits to both corporations from the proposed merger, such as the greater economies of scale, though he didn't mention the $2bn in savings highlighted before.
"The market clearly understands the industrial logic of this transaction. HP and Xerox shares are up 9.5 per cent and 6.6 per cent, respectively, since the date our proposal was first made public. We have already received inquiries from several HP shareholders and are encouraged by their interest in our offer," Visentin added.
"Nevertheless, rather than engage with us in three weeks of customary due diligence, HP continues to obfuscate and make misleading statements. It is important that we correct, for your benefit and that of HP's shareholders, a few of the mischaracterizations from your last letter."
HP earlier said the total value of Xerox's customer contracts is down, and may decline faster in future. This was described by Xerox's Visentin as "little more than a diversion," who added that, by HP's own admission, "backlog information is 'not a meaningful indicator of future business prospects' or 'material to an understanding of our overall business.'"
Xerox claims HP's proposed $1bn savings over the next three years, due to come from its corporate restructure and job cuts, has left the printer and PC biz unsure about realizing $2bn of "synergies" it earlier estimated could be achieved by merging with Xerox. Bear in mind, HP and Xerox have had some discussions to and fro about this takeover in private before it all boiled over into public view.
The Xerox boss also said there is no hole in his tech giant's portfolio as a result of offloading its stake in its joint venture with Fujifilm. Just more greenbacks to "support growth" and buying power, apparently.
"While you may not appreciate our 'aggressive tactics', we will not apologize for them. The most efficient way to prove out the scope of this opportunity with certainty is through mutual due diligence, which you continue to refuse, and we are obligated to require," said Visentin.
"We plan to engage directly with HP shareholders to solicit their support in urging the HP board to do the right thing and pursue this compelling opportunity."
HP is filing its latest financial results on Tuesday afternoon, and no doubt the board will have something to say about Xerox's move to a hostile takeover. ®