This article is more than 1 year old
Googlers fired after tracking colleagues working on US border cop projects. Now, if they had monetized that stalking...
Tech giant shocked at non-profitable abuse of info
Comment Google is under fire for sacking four staffers it says electronically stalked colleagues working on technology for the US Customs and Border Protection.
The four were fired after an investigation by the web giant revealed they had tracked fellow Googlers suspected of working on projects they didn't like – namely, an in-development cloud services for US border cops. The four were also accused of leaking confidential information about their targets, an allegation they deny.
The four just so happened to be involved in labor organizing at the internet goliath, which also just ended its weekly Thank Google It's Friday meetings in which staff quizzed bosses. And also tapped up union-busting consultancy IRI. And has weathered internal protests about its poor handling of sexual harassment complaints. And saw more than 200 unhappy San Francisco staffers walk out briefly last Friday. And, yeah, you get the idea.
When the e-stalking was noticed, the targets reported feeling "scared or unsafe," and asked to be physically relocated, according to a staff memo circulated by the internal investigations team that was leaked to Bloomberg. Despite being warned not to look at nor gather information on people not in their team or related to their job, however, the four individuals continued to harvest info about their targets, Google claimed.
The four were accused of leaking copies of corporate emails and other inside information about their targets to the outside world, a move the now-ex-employees say is a lie: they deny any wrongdoing.
The fired Googlers are otherwise unrepentant, and claim they were axed in retaliation for speaking out. They argued on Monday that a section of the corporation's code of conduct that says Google employees should "speak up if you see something that you think isn't right" provided ample justification for tracking and scrutinizing their colleagues.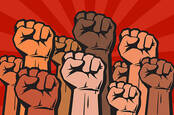 Google internal revolt grows as search-engine Spartacuses prepare strike over China
READ MORE
They also point to the fact that they were not told specifically that they couldn't read all the documents produced by certain individuals. Nor were they told they couldn't set up a system that alerted them whenever someone they were targeting added anything to their internal calendar – which, apparently, included everything from one-to-one meetings to medical appointments and family events.
Indeed, at Google, staff are allowed to drop in on what others are working on and their calendars to find out how projects are progressing and which need help, or to learn new stuff, and so on. Workers are also encouraged to speak their mind and grill executives on their decisions. This open culture appears to have hit the buffers.
"Looking at such documents is a big part of Google culture," the stalkers explained, besides "the policy was unclear, even explicitly stating the documents didn't have to be labeled to be off limits."
This whole affair is rather messy: one of those fired was told by the investigations team that he wasn't being accused of leaking when he asked them if he was. Speaking through a megaphone pointed at Google's offices in San Francisco where he had until recently been employed, Laurence Berland, who previously protested against YouTube's handling of hate speech, explained, very loudly: "I asked Google's Global Investigations team, am I being accused of leaking? Their answer was one word: 'No.' This isn't about leaking."
And yet the internal memo is about allegations of leaking, well, at least in part. Mostly about the stalking, though.
For many, these clampdowns and firings demonstrate that Google may not in fact be a Utopian oasis that overpays techies and offers a seemingly endless array of free perks while possessing none of the complexities of a vast corporation.
Now if only the fired Thanksgiving Four had figured out a way to monetize their tracking efforts. ®