Stand back, we're going in: The Register rips a 7th-gen ThinkPad X1 Carbon apart. Literally
Competent corporate workhorse with a funky finish and a price tag to match
---
Nippy, fixable but oh-so-scuffable. Lenovo's premium X1 Carbon ThinkPad has had an update, but is it any good?
For those of a certain age, the ThinkPad X1 Carbon is very much the Ford Cortina GXL of its generation – the tippety-top of the line handed out to workers who almost, but don't quite, merit a MacBook Pro.
Now in its seventh generation, the X1 Carbon is facing stiff competition from the likes of Microsoft and its Surface Laptop 3 as well as the usual suspects, Dell and HP, and early signs suggest that the old warhorse remains more than a match.
Lightweight
The externals are good. The machine weighs a shade over 1kg and it is easy to forget it is squatting in a shoulder bag. The laptop is also 6 per cent thinner than its predecessor, according to Lenovo, but retains enough heft to be easily openable with just one finger.
The exterior of our test machine was coated with a soft-touch finish, which was a nice thing to hold but after only a few days being lugged around in a laptop bag as a daily driver began to show scuffs.
The machine is also not short of exterior ports, rocking a pair of USB-A 3.1 sockets and two USB-C Thunderbolt 3 connectors. There is also a HDMI 1.4 port, and Lenovo has thankfully not been courageous enough to dispense with the combination headphone and mic socket.
Recognising who is likely to buy the thing, Lenovo also includes an Ethernet adapter in the box.
The 323mm x 217mm x 14.95mm laptop opens smoothly enough, revealing the glossy screen and the X1's party piece – the ThinkPad keyboard, which remains one of the best in class, with deep key travel and decent quality. That said, whoever decided to put the Function key where the left-hand Control key would be on nearasdammit every other PC keyboard needs a stern talking to.
The trackpad, with physical buttons for those who want them, is present and correct, as is the pointing stick for those that can't live without it. Beside the trackpad lurks the fingerprint reader, which remains a better bet than the frankly awful facial recognition of the Windows Hello compatible 720p camera setup.
We've not had a great experience with Windows Hello facial recognition on competing laptops, so can't single Lenovo out for that particular criticism. The fingerprint reader does, however, work a treat.
Otherwise it's an austere affair visually, with a high-quality matte finish that seems to be a magnet for fingerprints.
The Visuals
The glossy screen, with slim bezels and a webcam mounted top and centre (with privacy protected by a physical shutter), is a 14" 4K IPS affair, rocking a 3840 x 2160 resolution with Dolby Vision. The 500-nit display lacked any sort of privacy guard on our review model, which might worry some since the bright screen is viewable from a wide range of angles.
There are also no Yoga-like party tricks here – the lid will fold flat, but no further, and this particular screen is not multi-touch and thus soon attracted the fingerprints of disappointment from those used to pawing at the display.
It is, however, very easy on the eye, even if the integrated Intel 620 graphics mean that it won't be bothering the latest and greatest games any time soon.
Gaming, of course, is not what the X1 is all about. With 16GB of LPDDR3 RAM, 512GB of PCIe-NVMe SSD storage and an Intel Core i7-8565U CPU running at 1.80GHz, the machine shrugged off pretty much any of the day-to-day tasks I threw it, from basic office productivity through to multiple Hyper-V sessions and development environments. Performance is not going to be an issue here.
What is an issue, alas, is battery life. Lenovo boasts that 18.3 hours is possible with the 51Whr Rapid Charge battery with the proviso that the figure is dependent on specification and settings. We managed a mere six hours before reaching for the charger, and that was with that glorious screen dimmed to conserve juice. Lower-resolution models should fare better.
Our battery experience was based on a few days of using Word, Excel, staying connected to Wi-Fi and firing up the likes of Visual Studio Code and Docker. We also used notorious battery-muncher Chrome as the primary browser for the Windows 10 Pro that came pre-installed.
While overall the X1 stands up well to devices such as Microsoft's Surface Laptop 3, Lenovo's baby scoffs at Redmond's much-vaunted repairability. A Lenovo representative at the recent Microsoft Ignite event gave a derisive snort at the changeable SSD of the Surface, saying: "We've been doing that for years."
Challenge accepted.
What lies beneath
Having gained permission from the slightly nervous Lenovo PR, we took some iFixit-supplied screwdrivers to the machine to see just how easy it was to access the innards.
The result? Very easy.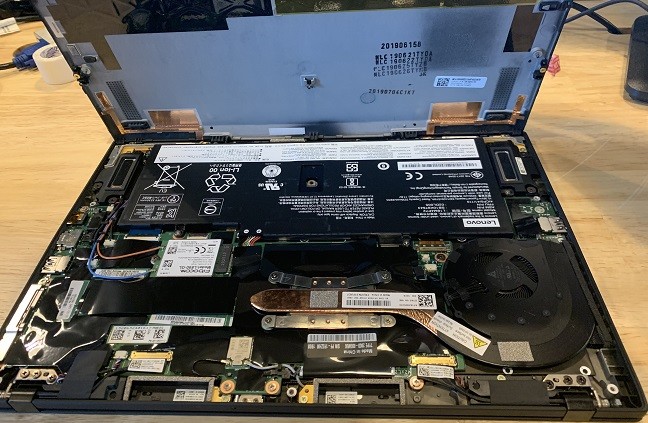 We're going in!
After removing the "do not remove this label" label (aimed at deterring more fearful reviewers), and downloading Lenovo's hardware maintenance guide, it took a mere five Phillips-head screws to open the case and reveal the guts of the X1.
The major components, including SSD and battery, can be removed with ease and reassembled, even by this ham-fisted hack. The SSD and wireless WAN card are listed as self-service items while the power pack is not, but with a mere six screws holding it in place, the battery should present little difficulty when replacement time comes.
Naturally, check the terms of your particular warranty before venturing into the interior of your own laptop.
Sadly, if you ever need to change the RAM, then the system board will need to come out since the memory has been soldered down.
Overall, the X1 Carbon remains a rapid, competent machine. The keyboard is a joy compared to many in the market, and performance will not disappoint. The device we looked at normally retails at a wince-inducing £1,829.99, which compares well to a similarly equipped Surface Laptop 3 and quite a bit below a MacBook Pro.
Discounting and corporate pricing mean that end users are unlikely to have to part with quite so much cash.
Lenovo also told us that there are Ubuntu-certified models lurking in the range for those who prefer to remain Windows-free. ®