Buy Amazon's tiny $99 keyboard so you can make terrible AI music for all your friends
DeepComposer is certainly no maestro
---
re:Invent Amazon is releasing DeepComposer, a software package to help machine learning enthusiasts automatically generate jingles using a mini keyboard.
The announcement was made by Matt Wood, VP of AI at AWS, during Amazon's annual re:Invent developer conference in Las Vegas.
"Everyone has access to the type of expertise that allows artificial intelligence to be able to predict diseases earlier in the stage so they can be treated earlier; to be able to run clinical trials more efficiently; to be able to bring drugs to market more quickly; to be able to drive and learn the skills to autonomously navigate the roads and deliver goods more safely and more efficiently," he gushed on stage. "And to be able to use an expert's view to improve the world."
DeepComposer, however, doesn't quite do any of those things. Instead of using AI to fulfill grand humanity's grand visions of improving healthcare or transportation, Amazon wants people to, erm, compose music.
"Please make some noise for AWS DeepComposer: The world's first musical keyboard powered by generative AI," Wood continued.
The $99 keyboard features 32 keys, enough to cover two octaves, to create short melodies that are recorded and fed as input into DeepComposer. The software then uses a generative adversarial network (GAN) to analyse the individual notes to formulate new melodies in the track from different instruments to generate a complete song. Users can then upload their creations to SoundCloud.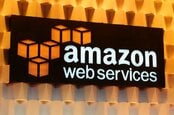 AWS re:Invent re:turns with re:vised robo-car and Windows Server 2008 re:vitalization plan
READ MORE
GANs are split into a generator and discriminator network that compete against each other, learning how to reproduce patterns in their training data as they go. A generator will produce content, whether its an image or an audio snippet, and pass it to a discriminator to scrutinize.
If the content appears to be an accurate model of the training data, the discriminator passes it off as something real. If not, however, then it's rejected and the generator has to try again. Over time both networks are trained by minimising a loss function as they improve.
Given a large amount of audio samples from different genres, GANs like DeepComposer can generate melodies that incorporate common characteristics across various styles of music like classical, jazz, rock, or pop music. Here's an example of perfectly fine classical music - Beethoven's Ode to Joy - that has been ruined remixed by DeepComposer to include samples of drums, an electric guitar and a bass guitar.
DeepComposer isn't available yet, however. If you're interested, you can sign up for preview today and you'll get notified when you can buy the keyboard on Amazon. ®