This article is more than 1 year old
Larry leaves, Sergey splits: Google lads hand over Alphabet reins to Sundar Pichai
Sergey leaves his first love… again
The co-founders of Google, Larry Page and Sergey Brin, have announced they are stepping down from their respective CEO and president roles of parent company Alphabet – and handing over to Google's current CEO Sundar Pichai.
"We've never been ones to hold on to management roles when we think there's a better way to run the company," the two said in a blog post on Tuesday, adding that they will still be involved in the monster tech company they founded back in 1998 as board members and shareholders.
The change is effective immediately and Alphabet's share price has nudged up by less than one per cent in after-hours trading on the news. The announcement has come complete with various canned quotes:
"It's impossible to overstate Larry and Sergey's contributions over the past 21 years," said chairman of Alphabet's Board of Directors, John Hennessy. "I'm grateful that they will continue their involvement on the Board."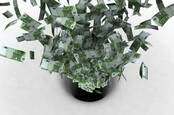 Google boss Pichai unbothered as 'Other Bets' nears billion-dollar cash sink in Q3 results
READ MORE
"I'm excited about Alphabet and its long term focus on tackling big challenges through technology," said a presumably very happy Sundar Pichai.
"I'm looking forward to continuing to work with Larry and Sergey in our new roles. Thanks to them, we have a timeless mission, enduring values, and a culture of collaboration and exploration. It's a strong foundation on which we will continue to build."
Page and Brin's missive is a little livelier, talking about Google's "colorful tapestry of bets in technology across a range of industries," and noting that if the company were a person "it would be a young adult of 21 and it would be time to leave the roost." They intend to be "proud parents" from this point, "offering advice and love, but not daily nagging!"
Their letter closes: "We are deeply humbled to have seen a small research project develop into a source of knowledge and empowerment for billions - a bet we made as two Stanford students that led to a multitude of other technology bets. We could not have imagined, back in 1998 when we moved our servers from a dorm room to a garage, the journey that would follow." ®