On Tuesday Qualcomm teased three upcoming Snapdragon system-on-chips at its aptly named Snapdragon Tech Summit in Hawaii.
The US giant hopes the processor components will feature in next-generation smartphones, notebooks, and similar gear landing next year. Specifically, it announced the premium-tier Snapdragon 865 – a followup to last year's 855 – and the mid-tier Snapdragon 765 and 765G. The G is for gaming, it seems.
These three parts have a focus on 5G connectivity, AI acceleration, and gaming – Qualcomm wants to offer "desktop-level" performance with these mobile system-on-chips. The US giant's president Cristiano Amon, speaking on stage at the summit's keynote this morning, estimated 1.4 billion 5G smartphones will ship by 2022, hence its eagerness to provide the 5G modems in those devices.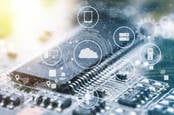 A little product renaming here, a little RISC-V magic there, some extra performance, and voila – Imagination's 10th-gen PowerVR is born
READ MORE
The Snapdragon 765/765G, aimed at mid-level products, will integrate Qualcomm's Snapdragon X52 5G modem and radio electronics, which supports mmWave (24GHz-plus) and sub-6GHz frequency bands, dynamic spectrum sharing, non-standalone and standalone modes, and carrier aggregation.
Depending on your surrounding 5G coverage, you could fetch up to 3.7Gbps from the cellular network via this modem – all according to Qualcomm, of course. You mileage will vary in real life.
Dynamic spectrum sharing is interesting in that it allows cellular towers to share spectrum between 4G and 5G, rather than dedicating separate blocks of bandwidth to each technology: that flexibility may be useful to some operators by, among other things, allowing them to expand their 5G coverage.
The 765/765G line also supports 4K HDR capture, features Qualcomm's fifth-generation AI engine, and sports a graphics system that may sate desktop and console gamers looking to play games on their handhelds. Motorola has vowed to roll out 5G smartphones worldwide using the 765-series from early 2020.
Meanwhile, the 865 is expected to be used alongside the Snapdragon X55 5G modem with QTM525 mmWave and radio frequency electronics, which can hit up to 7.5Gbps download speeds. This platform will power the upcoming Xiaomi Mi 10 smartphone, and a handset from Oppo in Q1 2020, among other devices. Xiaomi plans to launch at least ten 5G smartphones, presumably using Qualcomm's technology, in the coming year.
Finally, Qualcomm's senior veep of mobile Alex Katouzian announced the latest version of its 3D Sonic Max, the chip designer's in-screen ultrasonic fingerprint sensor. This has two finger sensors, which can be used simultaneously for authentication, and thus has a recognition area 17 times larger than the previous generation. And hopefully works better than the previous version, which unimpressed some.
We're due to learn full details and specs of the Snapdragon chips on Wednesday. ®
Bootnote
Why Hawaii? It's a spot in the Pacific between China, Taiwan, Japan, South Korea, and America, all places Qualcomm wants to sell its gear into, while dodging the metaphorical bullets flying back and forth in the ongoing trade war between the US and the Middle Kingdom. The summit's keynote this morning featured speakers using English and Mandarin, to give you an idea of the markets being targeted.
Integrity – we've heard of IT... Qualcomm paid for this hack's flights to and from, and accommodation for, this year's Snapdragon Tech Summit. However, as should be evident from The Register's previous coverage of Qualcomm, it will take more than a week in a five-star Waldorf Astoria in Maui, albeit one listening to chip marketing, to swing this and any other vulture's opinion of the biz.