Mayday in Moscow as devs will be Russian to Putin mandatory apps on phones, laptops, TVs
Don't be Stalin, you only have until July, thanks to new law
---
Russian President Vladimir Putin has signed off on the law requiring most electronics sold in the country to be pre-bundled with domestically produced software.
Monday's approval from Putin means that, from July, all handsets, tablets, PCs, and smart TVs sold within the country's borders will be required to include software from a Russian developer.
The bill, targeted primarily at the likes of Apple, Google, Samsung, and other foreign electronics giants, will seek to give Russian companies a leg up in the domestic market and allow them to gain a foothold against their larger foreign competitors.
The President's expected signing of the law comes a little more than a week after the Russian Duma passed the bill.
No individual developers or applications have been specified - that will come between now and July when the government draws up the list of requirements. Vendors who don't install software from a Russian developer will face a cash fine.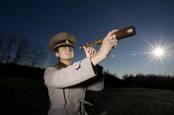 Russian FaceApp selfie-slurper poses 'potential counterintelligence threat', FBI warns
READ MORE
Not surprisingly, the reaction to the passing of the bill has been mixed, depending on what side you are on. According to the Moscow Times, backers of the law believe it will raise public awareness about Russian developers.
The hardware vendors who will be forced to comply with the law, however, are less enthusiastic. Apple bods have been anonymously quoted as saying the mandate would "be equivalent to jailbreaking, it would pose a security threat, and the company cannot tolerate that kind of risk."
Russia has been tightening its grip over the technology industry as a whole in recent months. In November, a sovereign internet law was enacted giving the government the ability to control traffic and directly manage ISPs.
The moves have caused concern in other countries that Russian intelligence could turn the closely managed infrastructure to their advantage and are thought to have even had an impact on the cybercrime underground. ®