This article is more than 1 year old
EU wouldn't! Uncle Sam brandishes 'up to 100%' tariffs over France's Digital Services Tax
China is so last year. America (tech giants) first
The spectre of warehouses full of cheese, champagne and handbags looms over whomever wins the UK's December General Election and has to oversee the country's own upcoming Digital Services Tax, come April 2020.
The goods are among the French exports named by the US Trade Representative (USTR) (PDF) as potential targets for tariffs in response to France's 3 per cent Digital Services Tax (DST).
The USTR has claimed the tax – which is aimed at the top line of "digital companies with revenue of more than €750m" – discriminates against American companies. The USTR is proposing "additional duties of up to 100 per cent on certain French products", with an approximate trade value of $2.4bn.
USTR referred to the tax in the report by its French nickname, "GAFA tax" (which stands for Google, Apple, Facebook and Amazon).
The four US tech giants, which have a combined market capitalisation of around $4 trillion, are also the target of UK election front runners.
To the shock of British telcos last month, Jeremy Corbyn, leader of the opposition Labour Party, promised to pay for state-funded broadband with a levy on tax on multinationals, including tech giants - although he didn't clarify if the plan included UK's DST.
The French experience serves as a warning as the UK seeks to withdraw from the European Union and strike global trade deals – including with the US.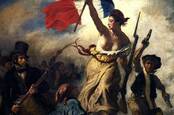 We have the best trade wars: US investigating French tech tax plan over fears it unfairly targets American biz
READ MORE
For its part, the French government has promised the European Union would retaliate on its behalf should the US go ahead with its tariff proposals. Speaking to commercial French radio station Radio Classique this morning, French finance minister Bruno Le Maire said the US response was "not worthy of an ally".
The US is also proposing tariffs on French goods including porcelain, china, soap and cosmetics, as well as a long list of cheeses, including Roquefort.
The USTR is inviting comments on its proposals and expects to conduct a public hearing on 7 January 2020 to decide on its action.
US prez Donald Trump is in London this week for the NATO summit, as is French president Emmanuel Macron. ®