This article is more than 1 year old
Google ex-employees demand retribution for Thanksgiving massacre
Fired four threaten to file complaint with National Labor Relations Board
The four engineers fired by Google just before Thanksgiving for allegedly e-stalking co-workers have said they will file a complaint with the National Labor Relations Board claiming they were subject to an illegal intimidation campaign.
Laurence Berland, Paul Duke, Rebecca Rivers and Sophie Waldman, who worked at the tech giant for between two and 11 years claim that they were fired for questioning the company's "unethical business decisions" and helping to organize a labor union.
"We participated in legally protected labor organizing, fighting to improve workplace conditions for all Google workers," the four argue in a blog post.
"We joined together to hold Google accountable for the impact on our workplace of its business decisions, policies, and practices on a range of topics."
As such, they argue that "as a first step, Unfair Labor Practice charges will be filed with the National Labor Relations Board. We look forward to hearing the NLRB's findings, which we expect will confirm that Google acted unlawfully."
Google said it fired the workers for "data security violations," saying they electronically stalked colleagues working on technology for US Customs and Border Protection. The company says they tracked fellow Googlers suspected of working those projects and leaked confidential information about their targets.
It is "flatly untrue" that they leaked confidential information, the fired engineers argue. Instead they complain of having "our reputations smeared in the press as Google spread rumors that we were rule-breaking troublemakers." The real reason they were fired, the four claim, is that they were "engaging in protected labor organizing."
Wide range of concerns
It wasn't just union organizing however. As the four make clear in their post, they were bitterly opposed to a significant number of projects that Google was working on, including its work with border protection, drone technology with the Defense Department, and a project with the Chinese government to offer a censored search service.
They also actively opposed a number of other decisions including the hiring of someone who spoke in favor of the Trump Administration's travel ban while working at Homeland Security, the placing of someone who had made controversial comments about immigrants on the now defunct Google's AI Ethics council.
They also raise a number of internal issues, including the payoff of a senior executive accused of sexual assault, claimed retaliation against other employees that had organized walkouts, and efforts to established unions at various Google locations.
These actions were not only justified but should be supported by Google, the four claim: "Google explicitly encourages us to pursue exactly these goals. The company's code of conduct states unequivocally: 'Don't be evil, and if you see something that you think isn't right — speak up!' And we did."
They were disappointed by the reaction: "Google didn't respond by honoring its values, or abiding by the law. It responded like a large corporation more interested in revenue growth than in ensuring worker rights and ethical conduct."
Rally cry
The four also use the post to rally other employees to support their stance: "To all of the current employees who have reached out asking how they can help: Thank you! Our answer is the same for everyone working across the tech industry: Now is the time to organize, to join with your colleagues, and hold the bosses accountable!"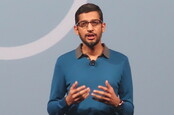 Larry leaves, Sergey splits: Google lads hand over Alphabet reins to Sundar Pichai
READ MORE
"Until we all come together in solidarity, for our workplace, for our communities, and for our world, nothing will change. But every one of us knows what we need and what the world deserves, and together we can make a difference. We WILL fight, and we WILL win. Join us."
The four are being assisted in their effort by another former Google employee, William Fitzgerald of The Worker Agency.
In September, Google was ordered by the National Labor Relations Board to post statements reminding employees of their rights as part of a settlement with employees who claimed the tech giant had retaliated against them for speaking out about many of the same issues as the fired four.
The statement noted that employees are allowed to speak out on political and workplace issues publicly. But Google also noted that it has its own rules and code of conduct. And a month later, it fired the four engineers that has been central to internal and external protests. ®