A former Oracle employee filed a lawsuit against the database giant on Tuesday claiming that he was forced out for refusing to lie about the functionality of the company's software.
The civil complaint [PDF], filed on behalf of plaintiff Tayo Daramola in US District Court in San Francisco, contends that Oracle violated whistleblower protections under the Sarbanes-Oxley Act and the Dodd-Frank Act, the RICO Act, and the California Labor Code.
According to the court filing, Daramola, a resident of Montreal, Canada, worked for Oracle's NetSuite division from November 30, 2016 through October 13, 2017. He served as a project manager for an Oracle cloud service known as the Cloud Campus BookStore initiative and dealt with US customers. Campus bookstores, along with ad agencies, and apparel companies are among the market segments targeted by Oracle and NetSuite.
Daramola's clients are said to have included the University of Washington, the University of Oregon, the University of Texas at Austin, Brigham Young University and the University of Southern California.
The problem, according to the complaint, is that Oracle was asking Daramola to sell vaporware – a charge the company denies.
"Daramola gradually became aware that a large percentage of the major projects to which he was assigned were in 'escalation' status with customers because Oracle had sold his customers software products it could not deliver, and that were not functional," the complaint says.
Daramola realized that his job "was to ratify and promote Oracle's repeated misrepresentations to customers" about the capabilities of its software, "under the premise of managing the customer's expectations."
The ostensible purpose of stringing customers along in this manner was to buy time so Oracle could actually implement the capabilities it was selling, the court filing states.
As Daramola saw it, his job as project manager thus required him to participate "in a process of affirmative misrepresentation, material omission, and likely fraud."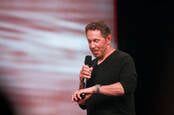 Oracle finally responds to wage discrimination claims… by suing US Department of Labor
READ MORE
On August 3, 2017, the complaint says Daramola refused to participate in what he believed to be illegal activity. And on August 16, 2017, he filed a report with the US Securities and Exchange Commission alleging regulatory violations.
Over the next month or so, Oracle allegedly stripped Daramola of responsibilities, retaliated against him, failed to investigate his internal complaints, and on October 13, 2017, "constructively discharged" him – forced him to resign due to the hostile work environment.
He then could not work in a similar role for the following twelve months due to a non-compete agreement imposed when he joined Oracle.
The lawsuit contends that Oracle's repeated directives to misrepresent its products violated the federal Racketeering Influenced and Corrupt Organizations (RICO) law, known for its use in cases against organized criminals enterprises.
For a civil RICO claim to succeed, the plaintiff must show that the defendant committed one of the crimes covered by the statute, such as mail fraud or wire fraud. A successful civil RICO claim allows damages to be tripled, though judges are said to require considerable evidence before allowing such claims to proceed.
In 2017, Oracle settled (while denying any wrongdoing) a whistleblower lawsuit brought a year earlier by Svetlana Blackburn, a former senior finance manager at Oracle who said her bosses had directed her to inflate the company's cloud sales.
Meanwhile, a 2017 shareholder lawsuit over Oracle's NetSuite acquisition continues to plod through the court system.
In a statement emailed to The Register, Oracle disputed Daramola's claim. "We don't agree with the allegations and intend to vigorously defend the matter," a company spokesperson said. ®