Why is it that Qualcomm is never far from drama?
On the eve of it officially unveiling its Snapdragon 765 and 865 system-on-chips, at its Snapdragon Tech Summit in Hawaii on Wednesday, the US semiconductor giant was fined a record-breaking $873m in South Korea for unfair business practices relating to its, er, unique approach to chip sales and patents.
Qualcomm said it would appeal the decision.
Previously, the corporation has been involved in billion-dollar tussles with Apple and Intel over cellular modems, attracted the ire of America's trade watchdog and cellphone makers, and dramatically binned its attempt to make server processors.
Amid all this, Qualcomm, which designs system-on-chips and cellular modems for phones, gadgets, and cars worldwide, is playing a waiting game. It is waiting for 5G networks, particularly mmWave networks, to roll out globally so that smartphones and gizmos using its 5G-enabled chipsets can take advantage of this next-gen mobile broadband coverage.
It reckons all high-end Android phones shipping next year using its Snapdragon chips will support 5G, though it may be hard to persuade people to fork out and upgrade to a 5G device if there is no reasonable 5G coverage around them. Apple is set to use Qualcomm's chipsets for 5G connectivity, too, with the first 5G iPhone expected in the latter half of 2020.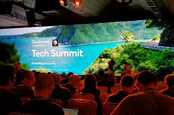 We took a shot every time Qualcomm said 5G, AI or mobile gaming in its Snapdragon 865, 765 system-on-chip launch...
READ MORE
And Qualcomm's waiting for everyone, from individual netizens to enterprises, to give in to the cloud, and accept that their data will be stored somewhere else, on someone else's computer, and that they'll need high-speed 5G to get at it immediately from their computers or handhelds wherever they are. A viewpoint obviously disconnected from Qualcomm's desire for you to ditch your 4G/LTE devices and buy new 5G gizmos that use its chips.
In a chat with El Reg and other journos on Tuesday, Qualcomm president Cristiano Amon reckoned mmWave 5G – that's the 5G operating from 24GHz to 100GHz – is a couple of years away, realistically. mmWave signals offer large amounts of bandwidth, which means more data downloaded per second, and low latency, but they don't propagate very far at all, being blocked by walls and other objects and even potentially your hand holding your fancy 5G phone. So you need many nearby base stations to provide constant meaningful mmWave coverage.
That means rolling this out will take time. Meanwhile, 5G can be deployed in sub-6GHz radio bands, where or near where other services live, such as 4G/LTE. So, how long will we have to wait for mmWave – the super-fast, low-latency mobile broadband Qualcomm and others are hyping up?
"In 2021, mmWave will be commercially available: all leading economies will have mmWave by then," Amon said.
He went on to argue that 5G will cause applications and services to split into two tiers: non-5G-connected and 5G-connected. Specifically, he said, Android would tell apps, via an API, whether or not an internet connection is available. Now, Android will tell apps whether there is a 5G connection available as well as the bandwidth and latency. Amon expects software to "modify its behavior" dynamically depending on the connectivity, meaning certain features will only be enabled if a 5G link is present.
He added that he was "skeptical" whether there will ever be a third mainstream mobile operating system, after Google's Android and Apple's iOS, though he said apps these days are growing more OS agnostic anyway. As for use cases for 5G, Amon rattled off a long list of possibilities, from high-definition video streams to gaming, though the main areas are: retail, smart cities and factories, internet-connected cars (particularly infotainment), and healthcare. Automotive is a key market for Qualcomm; it's not just phones and tablets and other gizmos.
On the subject of healthcare, Amon described first responders being able to beam high-resolution images and scans of patients from ambulances to doctors and specialists waiting in hospitals via 5G as an example of the technology's usage.
Always-connected PCs and the cloud
Qualcomm was also pushing its Snapdragon components for always-on, always-connected Arm-based Windows 10 PCs, basically using its processors to run applications and cellular modems and Wi-Fi controllers to keep the computers linked to the internet at all times. These Arm-based laptops didn't totally catch on as hoped: they proved too expensive for most punters, application compatibility issues continued to be a headache for some users, and in the end, the long battery life was more enticing than always-there internet connectivity, whether it's via 4G/LTE or Wi-Fi.
So, why aren't more computers these days shipping with cellular modems and SIM cards, to get connected to remote apps and data wherever they are, and when will people – particularly enterprises – take a greater interest in 4G or 5G notebooks? According to Amon, it'll happen when businesses and punters move closer to the cloud, and accept that's where their data is and that it has to be accessed remotely from anywhere. He also singled out Microsoft for driving this movement.
"Microsoft's strategy is going to the enterprise and convincing it to move its entire IT infrastructure to the cloud, move all the data to the cloud," said Amon. "It's very easy to share and collaborate with the cloud, just change the model of the PC in the enterprise to the enterprise in the cloud.
"People will be right behind Microsoft and need an always-connected PC. If you believe in Microsoft's strategy, and look at how the market believes in its ability to digitally transform enterprises, you must believe in the 5G-connected PC."
Onto the system-on-chips that were officially unveiled today.
Snapdragon 865
The 7nm TSMC-fabricated Snapdragon 865 sports eight 64-bit Kryo 585 CPU cores derived from Arm's designs and clocked at up to 2.84GHz: that's one Arm Cortex-A77 at 2.84GHz with 512KB of L2 cache, three A77s at 2.42GHz with 256KB of L2, and four Cortex-A55s at 1.8GHz and 128KB of L2, with 4MB of L3 shared cache. The RAM controller can use 2750MHz LPDDR5 or 2133MHz LPDDR4X memory. The CPU cores are essentially stock cores from Arm; Qualcomm decided to spend its engineering time on all the other parts of the system-on-chip, such as machine-learning acceleration and camera data processing, to differentiate its product from rival parts.
The package also includes an Adreno 650 GPU, and a Hexagon 698 math accelerator that can be used for speeding up AI tasks. Overall, the components form what's called the Qualcomm fifth-generation AI engine. Qualcomm is also shooting for a "desktop level" gaming experience with this platform stack by including various performance features; your mileage may vary. GPU drivers will also be downloadable from the Android Play Store, allowing folks to easily install updates and enhancements. As a flagship product, the 865 is aimed at high-end phones and similar devices.
We're told the 865, which includes a Spectra 480 image signal processor, can handle two gigapixels a second when taking photos and video, or four pixels per clock cycle. That translates into 4K HDR and 8K video recording, photographs up to 200 megapixels in size or 64MP during video recording, and HD slow-motion video at 960 frames per second, and more. Phones using the SD865 with 200MP camera sensors are due to go on sale in 2020. There's also hardware acceleration for computer-vision apps that use the camera, and it supports Dolby Vision capture.
This does not have an integrated a cellular modem, and instead will be paired with the separate Qualcomm X55 5G modem with QTM525 mmWave and radio frequency electronics that, depending on your coverage, can hit up to 7.5Gbps download speeds. It also supports sub-6GHz 5G and 4G/LTE. The reason for not integrating the X55 into the 865 is this, according to Qualy: you have to compromise and lose some of the modem's capabilities when building it into a system-on-chip. Qualcomm didn't want its top-end SD865 to have a reduced 5G modem, and so to maximize connectivity, the X55 communications chip – its highest-end 5G part – will be provided as a discrete non-optional part.
For those interested in developing AI apps, Qualcomm has updated its Neural Processing SDK, Hexagon NN Direct, and AI Model Enhancer tools to help programmers tap into the Snapdragon's hardware acceleration, and added mixed precision instructions to its GPU for machine learning. The SD865 will also be the first, according to Qualcomm, system-on-chip to support dual SIM dual standby.
There's also support for Bluetooth 5.1, Wi-Fi including 60GHz Wi-Fi that tops out at 10Gbps, up to 16GB of RAM, USB 3.1, a 4K touchscreen display at 60Hz or QHD+ at 144Hz, up to 4K of external display at 60Hz, hardware acceleration for voice-controlled digital assistants, and other bits and pieces. It's all basically building on the Snapdragon 855 that launched last year. Naturally, Qualcomm says the 865 runs software faster and does more than its previous offerings.
Snapdragon 765 and 765G
The 7nm EUV Samsung-fabricated Snapdragon 765 and 765G are aimed at mid-range mobile gear. The 765 sports eight 64-bit Arm-based Kryo 475 CPU cores clocked at up to 2.3GHz, an Adreno 620 GPU, a Hexagon 696 accelerator, and a Spectra 355 ISP. It can handle 4K HDR video capture and pictures up to 192 megapixels in size. The 765G – the G stands for gaming – is the same except the CPU cores go up to 2.4GHz and the 765G's GPU runs 20 per cent faster than the stock 765, we're told.
Specifically, the eight Kryo 745 cores are made up of one Arm Cortex-A76 at 2.4 or 2.3GHz depending on whether it's a G or non-G, one A76 at 2.2GHz, and six Cortex-A55s at 1.8GHz. The memory controller can take 2133MHz LPDDR4X RAM.
The 765 and 765G have Qualcomm's X52 5G modem and radio electronics integrated because the US giant doesn't mind compromising a little on these mid-range system-on-chips; integrating the modem reduces the number of chips in the device, which opens up more space for a larger battery and/or antennas, so there's an upside to the trade off. The X52 can reach up to 3.7Gbps download speeds, we're told, and supports mmWave 5G and sub-6GHz 5G and 4G/LTE.
There's also support for 2.4 and 5GHz Wi-Fi, Bluetooth 5.0, a QHD+ touchscreen display at 60Hz or FHD+ at 120Hz, an external display up to UHD at 60Hz, up to 12GB of RAM, hardware acceleration for voice-controlled digital assistants, and other bits and pieces. It's all an extension of the 700-series that Qualcomm emits regularly. Again, naturally, Qualcomm says the 765/765G perform faster than its previous 700-series offerings.
Qualcomm-powered Android phones with these chips and support for mmWave and sub-6GHz 5G are due to arrive in Q1 2020. Snapdragon 600-series chips, aimed at low-end and modest devices, are due to get 5G integrated modems in the second half of next year, we're told.
Qualcomm's tech summit continues today, and more details about the Snapdragons will be revealed during this morning's keynote: we'll update this piece as new info arrives. ®
Integrity – we've heard of IT... Qualcomm paid for this hack's flights to and from, and accommodation for, this year's Snapdragon Tech Summit. However, as should be evident from The Register's previous coverage of Qualcomm, it will take more than a week in a five-star Waldorf Astoria in Maui, albeit one listening to chip marketing, to swing this and any other vulture's opinion of the biz.
In case you missed it... Last month, Samsung axed about 300 workers toiling away on its custom Arm-compatible microprocessors, and pretty much shut down that effort, following the disappointing performance of its homegrown M3 and M4 CPU cores.