This article is more than 1 year old
Customers in 'standoff' with SAP over 2025 end of support for Business Suite: Who'll blink first?
Users doubtful 5 years enough to get everyone moved in time
German enterprise software giant SAP is in a "standoff" with customers over the 2025 deadline for withdrawing support for its SAP Business Suite range.
SAP is hoping to shift users onto its cloud-based S/4HANA enterprise software, which includes ERP, financial management and HR, in-memory databases and real-time analytics. It says staying with old products will be more expensive in the long term.
Customers aren't so sure. The annual UK and Ireland SAP User Group (UKISUG) member survey questioned 467 organisations and found that 58 per cent do not intend to upgrade to S/4HANA in the next two years while 27 per cent say they will not upgrade in the next three years.
UKISUG chairman Paul Cooper said: "There is a bit of a standoff. We are seeing lots of customers saying SAP will extend that 2025 deadline. But we're not hearing anything other than 'that is the deadline' from SAP."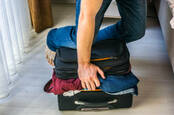 SAP bet the house on S/4HANA but most users aren't ready to move
READ MORE
Cooper, who is also head of information systems at Burton's Biscuit Company, called on incoming joint SAP CEOs Jennifer Morgan and Christian Klein to listen to customers. "It would be good, from the early days of their tenure, for them to talk about things like [extending the deadline] in terms of having an open relationship with their customers. They want to know, 'will you be refreshing, revising, or changing that deadline?'"
SAP user and industrial vacuum manufacturer Edwards is considering this move to S4/HANA, but is finding the business case for process change difficult to justify.
Rob Moore, SAP business information manager at Edwards, said users were aware of the proportion of the community yet to move to the new platform. "Given those figures and the fact that the deadline is only five years away, I think SAP is going to have its work cut out to get everyone moved in that time, and then be able to declare that support is finished."
In a statement, SAP said it had already extended the deadline for support for SAP Business Suite 7, which first launched in 2009 and includes the ERP Central Component (ECC), to 2025 but would consider other changes.
"SAP will announce future maintenance and product options in due time – of course, while providing long-term lead times in consideration of our customers' changing requirements. We are seeing a massive conversion to SAP S/4HANA, and we are confident that there is still plenty of time to move.
"As always, SAP will not leave customers behind. Delaying, however, may be a less attractive solution from a cost perspective in the longer term." ®