The middle ground of the smartphone market is a bit of a battleground. Manufacturers of all stripes – except Apple – keep flinging devices at punters with fairly high-end specs, but price tags under the £500 mark. The latest salvo comes from embattled Chinese comms giant Huawei, which today announced the launch of its Nova 6 handset.
The Nova 6 uses the same hardy Kirin 990 silicon as the recently released Mate 30 flagship and packs a generous 8GB of RAM and 128GB of storage. The top-tier 5G model boosts the latter to 256GB.
Then there's the camera array it ships with. On the front of the device, there's a 32MP selfie camera, which is augmented with the inclusion of an 8MP ultra-wide lens.
With a DxOMark score of 100, this is the highest-ranked selfie camera on the market. And while some have criticised DxOMark's methodologies in the past, it's still a pretty impressive feat.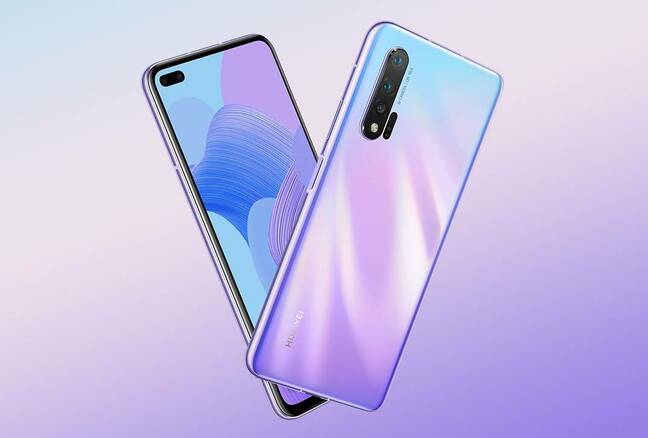 For the budget-conscious vlogger, the handset's selfie camera is capable of recording 4K video. DxOMark gave its video capabilities a score of 93, which is on-par with the Samsung Galaxy Note 10+ 5G.
As you'd expect, the rear camera array touts a 40MP primary shooter, which is accompanied by an 8MP 3X telephoto and an 8MP ultra-wide lens. Given the high megapixel count on the main camera, I'd assume that Huawei is using some pixel-binning trickery here (or, as Motorola perversely insists on calling it, "Quad Pixel technology").
As for the rest of the device, there's a generously capacious 4,200mAh battery, plus NFC and a side-mounted physical fingerprint reader. It's worth noting that the 5G model drops the battery capacity to 4,100mAh, which is still fairly decent.
The entry-level 4G Nova 6 version retails at ¥3,199, which translates to roughly £345. Those stumping for 5G can expect to pay ¥3,799 (circa £410), or ¥4,199 (about £450) for the 256GB storage version.
There's no word on when this phone will eventually reach the UK's shores, which isn't surprising given Huawei has massively slowed down its Western output since landing on the Trump administration's naughty list. That said, if you're desperate, you'll probably be able to pick up a unit via the usual international purveyors of Chinese tat, namely GearBest and BangGood. ®