Following the wild, roaring success of its Snapdragon 8cx Arm laptop chip, Qualcomm's back with the 8c, 7c
Looking forward to seeing these in, well, anything would be nice
Qualcomm will today expand its range of Snapdragon system-on-chips for always-connected Arm-based Windows 10 tablet-laptops from one to three.
Last December, it launched the 7nm 64-bit Arm-compatible Snapdragon 8cx, aimed at fanless lightweight slabtops that are always connected to the internet one way or another, via a built-in 4G/LTE modem or Wi-Fi, and have smartphone-like battery lives.
Despite all that fanfare, machines using the system-on-chip are rather thin on the ground. The $999 13.3" Samsung Galaxy Book S is one example of an 8cx laptop, though it's not actually shipping yet. The $999 13" Surface Pro X uses Microsoft's SQ1 processor, which is a tweaked 8cx. The price tags were also higher than some expected, performance lower than some anticipated, and software compatibility issues lingered with Windows 10 on Arm.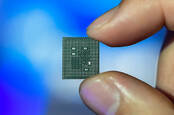 In a touching tribute to its $800m-ish antitrust fine, Qualcomm tears wraps off Snapdragon 865 chip for 5G phones
READ MORE
Unperturbed, Qualcomm is pushing ahead, and will unveil its Snapdragon 7c and 8c laptop microprocessors this morning at its Snapdragon Tech Summit. These chips are expected to arrive in future portable PCs. The marketing angle will be a long battery life, slim slabtop form factor, and that always-available internet connectivity for cloud-backed apps, video and music streaming, and such stuff.
The 8nm Snapdragon 7c includes eight 64-bit Arm-compatible Kryo 468 CPU cores clocked up to 2.4GHz, an Adreno 618 GPU, and AI math acceleration, and will be paired with Qualcomm's X15 4G/LTE cellular modem. It supports Wi-Fi 6, a 2048-by-1536-pixel on-device display at 60Hz and 2560-by-1440 externally, two channels of 2133MHz LPDDR4 RAM, Bluetooth 5.1, and other bits and pieces. It is aimed at entry-level fanless slabtops, which hopefully this time round will be affordable for more people.
The 7nm Snapdragon 8c, meanwhile, features an integrated X24 4G/LTE modem and can be optionally paired with an X55 5G modem. It includes eight 64-bit Arm-compatible Kryo 490 CPU cores clocked up to 2.45GHz, an Adreno 675 GPU, and AI math acceleration. It supports Wi-Fi, a 4K UHD on-device display and up to two 4K monitors externally, four channels of 2133MHz LPDDR4 RAM, Bluetooth 5.0, and other bits and pieces.
The 8c is aimed at the beefier-end of thin, battery-friendly fanless touchscreen notebooks running Windows 10, and will replace the Snapdragon 850. The 8cx will remain as the high-end offering, and the 7c as the brains for budget laptops.
We also understand Adobe Creative Cloud is coming to 64-bit Windows 10 on Arm.
Additionally, Qualcomm touted what's called the 8cx Enterprise Compute Platform, which promises to, basically, be a more polished variant of last year's 8cx with system software optimized to increase performance and security. And it is peddling a chipset for 5G-enabled augmented reality goggles, dubbed XR2.
You can catch the announcements in this ongoing keynote at Qualcomm's Snapdragon Tech Summit, held in Hawaii this week. ®
Integrity – we've heard of IT... Qualcomm paid for this hack's flights to and from, and accommodation for, this year's Snapdragon Tech Summit. However, as should be evident from The Register's previous coverage of Qualcomm, it will take more than a week in a five-star Waldorf Astoria in Maui, albeit one listening to chip marketing, to swing this and any other vulture's opinion of the biz.