The US State Department is being sued over its policy of crawling the social media accounts of people applying for entry visas.
A complaint [PDF] filed to the Washington DC US District Court alleges that Uncle Sam's policy "violates the expressive and associational rights of visa applicants by compelling them to facilitate the government's access to what is effectively a live database of their personal, creative, and political activities online."
Filed on behalf of visa applicants by a pair of documentary film organizations, the complaint asks for an injunction that would halt the social media reviews and require the government to immediately delete all collected information. The lawsuit claims nearly 15 million people had to fork over details of their social media accounts last year to officials when applying for visas.
Introduced back in 2017 under the guise of national security concerns, the social media vetting policy requires non-citizens who are applying for US visa papers to submit a list of their social media accounts, both those under their real name and those operated under an alias.
The policy can have serious repercussions. Harvard University scholarship student Ismail Ajjawi had his visa revoked after the US authorizes checked his social media posts at the border and determined that because some of his friends had made anti-American comments he would be denied entry. He has since been allowed to attend the university.
Plaintiffs Doc Society and International Documentary Association, with the backing of other civil rights groups, claim that the policy violates both the first amendment to the Constitution and the US Administrative Procedure Act.
What's more, they argue, the screening requirement does nothing to actually keep criminals out of the country. They cite a 2017 pilot program of social media collection by the State Department which the Homeland Security Inspector General found to be ineffective.
"While the implications of the Registration Requirement for individual rights are profound, the requirement is not necessary to serve the government's legitimate interests in adjudicating visa applications, enforcing the immigration laws, or protecting national security," the complaint reads.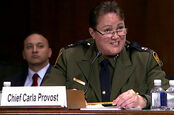 US border cops' secret racist Facebook group a total disgrace, says patrol chief. She should know, she was a member
READ MORE
"In adopting the Registration Requirement, the State Department cited no evidence that it is likely to be an effective, let alone necessary, means of serving those interests."
The State Department declined to comment as the case is still pending.
The Doc Society says that if successful the suit will in fact make things safer for filmmakers, activists, and other people whose personal safety requires anonymity.
"We regularly work with filmmakers for whom the ability to maintain anonymity online can be a matter of life and death," said Doc Society director Jess Search.
"As an organization committed to filmmaker safety, we believe the registration requirement is a deeply troubling and oppressive development, forcing filmmakers to choose between free online expression and their own security. The US government should be championing freedom of expression, not taking actions which will inhibit it." ®