This article is more than 1 year old
DeepMind founder behind NHS data slurp to be beamed up to Google mothership
Great job, now let's do some applied AI with the big boys
Mustafa Suleyman, one of the founders of DeepMind, is to join Google's applied AI division.
In August, Suleyman took "some personal time for a break to recharge" but promised he would return to DeepMind.
Instead he's off to work with Jeff Dean and Kent Walker at Google looking at applied AI and health.
The move underlines Google's increasing interest in DeepMind, which it bought in 2014. The London-headquartered firm garners headlines for winning games of Go but also works to bolster core areas of Google's search and Android business, as well as Waymo's self-driving cars. DeepMind has also made several controversial – and not really AI – healthcare deals.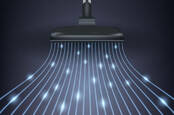 Google swallows up DeepMind Health and abolishes 'independent board'
READ MORE
Suleyman, described by DeepMind with that catch-all Silicon Valley soubriquet as a "serial entrepreneur", started the AI firm almost 10 years ago along with Demis Hassabis and Shane Legg.
The blog post announcing his departure also revealed the company's leadership for the new era including chief operating officer Lila Ibrahim and VP of research Koray Kavukcuoglu.
DeepMind's health limb, responsible for the controversial Streams project with the NHS, has already been borged by Google's Health Division.
Despite criticism of the agreement by the UK Information Commissioner's Office over it effectively handing over 1.5 million people's health records without consent, five health authorities agreed to transfer the deal when DeepMind joined Google, and only one declined.
Other critics have warned that the NHS and government have failed to understand the value of the data which they're handing over to corporations.
Phil Booth, co-ordinator at medical data and privacy lobby group MedConfidential, said when the last deals were signed: "If NHS bodies are signing contracts to share large amounts of patient medical history and data with foreign corporations, then we the patients, the public, have to know what's being done is fully consensual, safe and transparent.
"Handing 1.5 million patients' records to Google was justified in 2015 as the only option – has the NHS under Matt Hancock made no progress on NHS tech?"
Suleyman said he would give more details on his new role when he starts work after Christmas. ®