This article is more than 1 year old
Elon Musk gets thumbs up from jury for use of 'pedo guy' in cave diver defamation lawsuit
CEO's tweeted taunt totally fine, twelve jurors decide
Billionaire Elon Musk did not defame British cave explorer Vernon Unsworth, a Los Angeles jury concluded on Friday.
The trial, which began on Tuesday, followed from Unsworth's claim that Musk had defamed him by calling him a "pedo guy" on Twitter last year – a term many took to mean pedophile but Musk insisted meant something entirely different.
Unsworth's attorney Lin Wood had asked for $190m to compensate for damage to his client's reputation. It took the jury less than an hour to dismiss the claim.
The spat arose after Unsworth brushed off Musk's offer of a minisubmarine – to help rescue members of a junior soccer team who were trapped in a cave in Thailand between June 23 and July 10, 2018 – as "a PR stunt" and in a TV interview told Musk to "stick his submarine where it hurts."
Musk, CEO of Tesla, SpaceX, and The Boring Company, apologized and deleted his retaliatory tweet, but defended the jibe as a common insult in his native country South Africa, saying in a court filing that it means "a creep old man."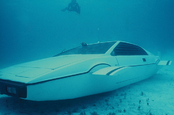 Billionaire vows to turn 007's Lotus Esprit into actual submarine car
READ MORE
However, in emails to news site BuzzFeed, he referred to Unsworth as "a child rapist" and said he hoped that he'd be sued by the cave diver.
Musk got his wish and may even have made "pedo guy" safe for public discourse and headline writers.
This is not the first time Musk's tweeting has resulted in legal action. Last year, he agreed to pay $40m to settle securities fraud charges with the US Security and Exchange Commission based on tweets that he'd made about taking Tesla private again.
Departing court, Musk told reporters, "My faith in humanity is restored." ®