Internet jerk with million-plus fans starts 14-year stretch for bizarre dot-com armed robbery
Lawyer attempted to argue theft of domain name at gunpoint was too stupid to be true
---
An internet frat boy has been sent down for 14 years in America for trying to steal a domain name.
Rossi Lorathio Adams II, 26, of Cedar Rapids, Iowa, built up a following of more than a million people by posting videos of drunk Iowa State University students on Snapchat, Instagram, and Twitter, via the website doit4state.com – not particularly safe for work – but prosecutors said he became obsessed with the idea of getting the doitforstate.com name, too.
The owner of that name, Ethan Deyo, had no intention of selling, but after persistent and increasingly aggressive efforts by Adams – who at one point turned up unannounced at his home to demand the name – offered to sell it for $20,000.
Adams wasn't willing to pay that sum and instead persuaded his cousin, 43-year-old Sherman Hopkins who was living in a homeless shelter at the time, to break into Deyo's house and force him to electronically transfer the name at gunpoint.
The theft went horribly wrong when an agitated Hopkins started pistol-whipping and tasing Deyo while he was at his computer transferring the name. According to Deyo, as the transfer was being concluded, Hopkins cocked the gun and threatened: "If this isn't right I'm going to blow your fucking head off!"
Fearing he would be killed, Deyo pushed the gun away from his head and a fight broke out. The gun went off and a bullet hit Deyo in the leg. He kept fighting and managed to get hold of the gun, before shooting Hopkins several times in the chest. Deyo then called the police who turned up to the bloody crime scene soon after.
Among the evidence on the scene was a handwritten note with instructions on how to transfer the name and, amazingly, the GoDaddy account number and personal email address of Adams to which the domain was to be transferred.
Curry favor
Even after Adams was found guilty by a jury of "conspiracy to interfere with commerce by force, threats, and violence," he continued to maintain his innocence, claiming just last week [PDF] that his cousin had acted alone and "his involvement was merely an attempt to curry favor with his cousin at some later point in time."
Adams' lawyer argued that his calls to GoDaddy after the botched robbery asking about the transfer were not proof that he was involved but simply the result of him inquiring "as to the reasons for the emails that the defendant was receiving from GoDaddy.com regarding the transfer."
The fact that Adams' personal email address and GoDaddy account number was on the handwritten instructions that Hopkins had with him was evidence that Adams was not involved in the robbery, his lawyer argued.
"The defendant, who the government alleges is a 'sophisticated user' of mobile technology, knew that the transfer of any domain name is traceable to the recipient. There is an electronic record of all transactions," Adams lawyer argued.
"With all due respect to the verdict, the government's case is inconsistent with what any thief would do – steal something unique, and then place the stolen property into the thief's account, knowing that the property can be easily traced."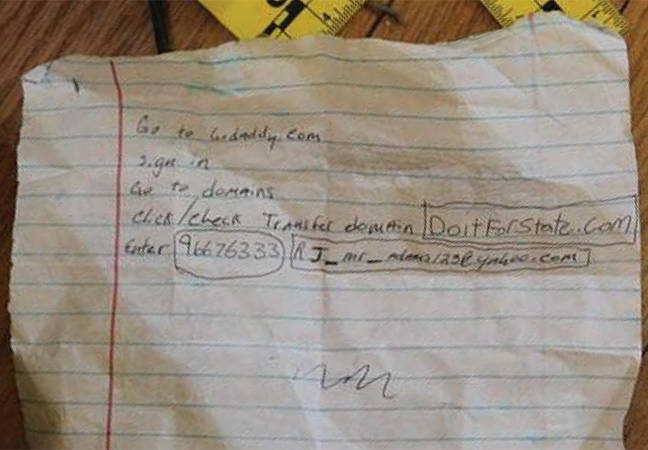 Proof that Adams wasn't involved: his personal details on a handwritten note at the scene
In essence: Adams' lawyer argued that his client is innocent because he would not have been so stupid to give his personal details as part of an attempt to steal the name. He made no mention of the police's discovery of Adams' palm print on the note.
Burning questions
There's more. Adams had gone with Hopkins and a friend – David Davis – to a Target store days before the robbery in June 2017 to purchase two burner phones.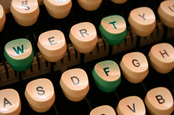 Bloke faces up to 20 years in the clink after gun held to dot-com owner's head in robbery
READ MORE
When questioned by police after the robbery, Adams at first claimed he wasn't at Target with them and knew nothing about the phones. He then changed his story and said he was there but didn't know what was in the bag that Davis emerged from the store with. And then changed his story again and admitted he had in fact given Davis $100 to buy the two phones.
Hopkins and Davis ended up using the phones on the day of the robbery because, as part of the transfer, the domain owner, Deyo, had to type in a new address and telephone number – and there wasn't one on the handwritten transfer note.
Hopkins pulled out the phone, called it and asked whoever was on the other end what to do. He ended up putting Deyo – the man whose domain was being stolen at gunpoint – on the phone to talk through the details. And Deyo later told the court that he immediately recognized the voice on the other end as Rossi Lorathio Adams II because it was the same man who had turned up to his house months earlier angrily demanding he hand over the same name.
In an effort to reduce Adams' sentence, his lawyer argued that despite Deyo having been attacked in his own home, repeatedly pistol-whipped and tased and having been shot through the leg, that he had not suffered a "serious bodily injury" because he was able to move about the house afterwards and "initially stated that he did not wish to be transported to the hospital" when the cops turned up.
Everyone would do it
Adams' lawyer also argued that his client's prior lack of a criminal record – except for two convictions for disorderly conduct and public intoxication – should see him receive a reduced sentence. And he highlighted Adams' "entrepreneurial spirit" in gathering photos and videos of drunk students and posting them online as being "smart enough to see an opportunity," adding: "If it didn't take ingenuity and hard work, everyone would be doing it."
The Iowa State University, which has the unofficial motto "Do it for State!" – sparking the domain name – had repeatedly asked Adams to take down the images and videos and not post any new ones – a request he refused.
Adam's lawyer asked for the government's proposed sentence [PDF] of between 168 and 210 months (14 to 17.5 years) to be reduced to 60 months (5 years). That was rejected, and Rossi Lorathio Adams II was on Monday given 168 months followed by three years supervised release. He was also fined $7,509.32 to be paid into the crime fund and $1,477.60 to be paid to his victim – Deyo. In addition, he has to pay $22,000 in court-appointed attorney fees.
Adams' lawyer told The Register he would be appealing the decision. Raphael M Scheetz told us in an emailed statement: "We will be appealing several rulings from the case, including the prosecutor's improper strike of the only black juror that was called to serve on the jury." ®
Similar topics
Broader topics