This article is more than 1 year old
Tesla has a smashing weekend: Model 3 on Autopilot whacks cop cars, Elon's Cybertruck demolishes part of LA
Dude was distracted by his dog when flash motor pranged police, officers say
A man driving a Tesla Model 3 on autopilot mode rammed into the back of two police cars and another vehicle parked on the side of a highway in Connecticut, USA, on Saturday. No one was injured in the crash.
Connecticut State Police (CSP) were called to an area of Interstate 95 in Norwalk early Saturday morning to attend to a car that had stopped on the left center lane of the four-lane freeway. Two troopers parked their police vehicles behind the car, deployed road flares, and called for a tow truck.
As they were waiting, a white Tesla Model 3 car cruising down the highway crashed into both police cars, which then smashed into the other car that had stopped in front. The Tesla driver then continued to roll along for another several hundred feet before one of the police cars flagged it down and stopped it.
The man told officers his car was on Autopilot – Tesla's super-cruise-control system – and the accident occurred when he was "checking on his dog" in the back seat, according to the CSP. Drivers are supposed to stay focused on the road and not take their hands off the wheel when using Autopilot; it is not an autonomous self-driving mode.
The bloke was ultimately given a misdemeanor for reckless driving and reckless endangerment.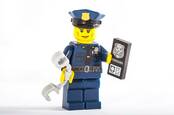 Pro tip: Plug in your Tesla S when clocking off, lest you run out of juice mid hot pursuit
READ MORE
"Regardless of your vehicle's capabilities, when operating a vehicle your full attention is required at all times to ensure safe driving," CSP said. "According to the National Highway Traffic Safety Administration, although a number of vehicles have some automated capabilities, there are no vehicles currently for sale that are fully automated or self-driving."
Another Tesla bad boy driver got caught up in another minor accident, too. In Los Angeles, California, the company's CEO Elon Musk hit a traffic bollard after he left the Japanese sushi restaurant Nobu in a Cybertruck, the silver, daft-looking, low-poly jalopy unveiled last month.
Musk was out celebrating with his kooky popstar girlfriend Grimes after he won his defamation case last week, and the excitement probably got to his head.
Elon Musk took the Cybertruck to Nobu in LA over the weekend pic.twitter.com/79IUyFDxAS

— Joel Franco (@OfficialJoelF) December 9, 2019
There is some debate as to whether the Cybertruck is even street legal at this point. The car lacks required wing mirrors, and also appears to be missing windscreen wipers.
On the latter point Tesla has filed a patent for bizarre windscreen wipers made out of lasers. Concentrated zaps of electromagnetic energy focused on a particular region on glass can clear specks of dust and debris, supposedly. The laser beam can change intensity, adjusting to how much dirt is on the glass.
The Register has asked Tesla for comment on both crashes but has yet to hear back. ®