This article is more than 1 year old
When is an electrical engineer not an engineer? When Arizona's state regulators decide to play word games
Professional licensing rules collide with common parlance, again
Electrical engineer Greg Mills sued the Arizona Board of Technical Registration for fining him thousands of dollars and threatening to close his twelve-year-old electronics business because he called himself an engineer.
If that sounds familiar, it may be because a similar case, after several years, recently concluded in Oregon, again in America, where state officials challenged Mats Järlström for referring to himself as an engineer and lost, eventually.
"The Board of Technical Registration here in Arizona says Greg may not call himself an engineer or do engineering unless he's a registered professional engineer," explained Paul Avelar, an attorney with The Institute for Justice, in a phone interview with The Register.
The Institute for Justice is a legal advocacy group that represented Järlström in his legal fight and represents Mills. It has challenged the constitutionality of various government rules in other states.
There is reason to regulate certain engineering services; governments have a legitimate interest in ensuring that public infrastructure like bridges and buildings adhere to established safety standards and were designed by individuals committed to, and capable of, respecting those standards.
But the state bodies overseeing such licensing have shown little regard for ensuring that their rules are applied as narrowly as possible and in the appropriate context.
Mills, who has over 30 years of electrical engineering experience at companies like Rayovac, Unitech, Spectrum Astro, and General Dynamics, came to the attention of the Arizona Board of Technical Registration earlier this year.
He had started a company in 2007 – initially called Big Byte Engineering and renamed in 2017 to Southwest Engineering Concepts – that helps clients design and build electronic circuits for prototyping and production. He doesn't do public works projects that would require sign-off from a registered professional engineer; rather, his work gets certified by third-party testers for compliance with standards set by the certification organisation Underwriters Laboratories or the Federal Communications Commission.
According to the court filing [PDF], Mills was hired to develop a battery-powered pump for an umbrella that incorporates a mist spraying system. After the client informed Mills that the device should support USB charging, Mills raised his initial estimate from $4,000 to $4,800. The client in response complained to the Arizona Board of Technical Registration that Mills was not a registered engineer and demanded a refund of payments made.
Mills responded to the board inquiry noting that he doesn't do work in any board-regulated profession. Nonetheless, the board, citing the opinions of two registered engineers, presented Mills with a consent decree, asking him to accept its findings that he violated state rules and to pay a fine of $3,000 - that the Board later doubled after he declined to attend a non-mandatory meeting.
The rules that the board accused Mills of violating represent Class Two misdemeanors under Arizona law and are punishable by up to four months in prison, in addition to a hefty fine.
Avelar said about 80 per cent of engineers nationwide are not registered professional engineers and that in at least 48 states, there's an exemption from registration requirements for engineers who work in industry.
"When he was building phone chargers and satellite parts, he was allowed to call himself an engineer and do engineering because he was working for a manufacturing company," said Avelar. "But he's not allowed to work for himself and call himself an engineer."
Arizona offers a path Mills could follow to operate lawfully in the state, but as described in the complaint, the process would be expensive and take years, in effect forcing him out of business.
The lawsuit challenges Arizona's rules for violating guarantees in the Arizona Constitution covering free speech, due process, economic liberty, and separation of powers.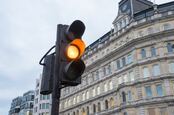 Traffic lights worldwide set to change after Swedish engineer saw red over getting a ticket
READ MORE
The Board of Technical Registration, said Avelar, has unchecked power to define engineering. Though the Board's own reviewers could not agree on what engineering should be regulated, the administrative body makes up its own rules and adjudicates them.
"Due process and the separation of powers guarantees [under the Arizona Constitution] therefore requires private rights, like the ones at issue here, to be adjudicated solely by an independent judge exercising judicial power," the complaint says. "Private rights cannot be adjudicated by executive branch administrative agencies like the Board."
Avelar said government agencies often take vernacular terms and then try to limit their meaning and prosecute those who don't follow the government definition.
This has happened not just for the term "engineer" but also for terms like "veggie burgers" and "skim milk." Avelar pointed to a lawsuit the Institute for Justice filed over Mississippi rules that banned makers of plant-based meat alternatives from using terms associated with meat products on their labels.
The next step for Mills, said Avelar, depends on how the Arizona Board of Technical Registration responds. We'll keep you up to date. ®