This article is more than 1 year old
With a warehouse of unsold AR goggles, Magic Leap has a brainwave… let's rebadge 'em and sell to business!
Took you long enough, smirks Microsoft
In another sign that investors in augmented reality company Magic Leap had had enough of blue-sky thinking and want to see green paper, it has "launched" a new business-focused product.
"Magic Leap today announced a suite of services, a robust set of applications designed specifically for the enterprise environment, and the availability of Magic Leap 1, an updated version of Magic Leap One Creator Edition," the company announced and, as usual, the majority of the tech press was happy to regurgitate the release as fact.
The reality however is that Magic Leap 1 is not an "updated version" of its failed consumer product. It is, in fact, the exact same product but with some updated software that the company hopes will make it attractive to business.
Magic Leap has an unknown number of its headsets in a warehouse, having planned to sell 100,000 of them but only managing sales of about 6,000. It's become increasingly clear that consumers are not going to spent over $2,000 on a product that isn't very good and comes with no games.
Magic Leap CEO Rony Abovitz reportedly convinced himself the company was going to sell a million of them. When it turned out that he'd sold only a few thousand despite having spent years and $2.6bn - that's billion - on development, Abovitz immediately started talking about the second version of the headset. This one will have 5G and a wide field of view and it will be lighter and, well, everything that is wrong with the current one will be fixed; magically.
But with the company running out of money, and investors starting to clamp down - JP Morgan Chase has taken the company's patents as collateral - it has finally fallen to Magic Leap to prove it can actually sell its products. Hence the sudden shift to the enterprise market.
Credibility gap
And just to make it clear how far the company's credibility has sunk, the opening sentence to its press release doesn't even mention Magic Leap by name: it references the companies and investors that have said they are going to use the headset in their business.
This is the start: "Global enterprises, including NTT DOCOMO, Boston Consulting Group, BNP Paribas, Deloitte, Hyperloop TT, JetBlue Vacations, McLaren, and Skender commit to bringing spatial computing to their companies and customers." Note the word "commit."
The company lost its CFO and VP of creative strategy last month and dozens of employees have been let go in recent weeks as the beancounters move in.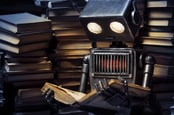 Magic Leap rattles money tin, assigns patents to a megabank, sues another ex-staffer... But fear not, all's fine
READ MORE
The thing is, the move to the enterprise market should have happened a year ago when it became clear the product was entirely unsuitable for consumers. The reason is simple: Magic Leap has been unable to crack a critical tracking issue so it can't handle fast-moving objects. They jump and stutter, making games impossible.
As a result, all the applications for the headset have been relatively stationary - walking through 3D spaces, or slowly moving objects. And that is something that could be useful for business in all kinds of training situations.
That's also something that Microsoft figured out years ago with its Hololens AR headset. It tried, briefly, to target consumers before realizing it was a non-starter and quickly shifted to the enterprise. The second version of Hololens has leap-frogged Magic Leap and the company also has the contacts and connections and brand-name to grab the market.
Rockstar from afar
Magic Leap never made the obvious decision to move toward enterprise for one simple reason: it, and its CEO Rony Abovitz, were still deluding themselves about who they were and what their product could do.
Abovitz wants to be a rockstar, and rockstars don't do corporate gigs. It's only a matter of time before he's given an applause-filled exit from the job.
Elsewhere...
In the meantime, another promising AR headset company, North, has taken a different route. It is focused on a different kind of market - a consumer devices that provides useful updates through a pair of smart glasses - think text messages etc, rather than fully immersive applications. A bit like the much-mocked Google Glass but less creepy.
It's backed by Amazon and Intel and has decided that it will take its current glasses off the market and focus on developed version 2.0 that will be lighter and with better resolution.
It's the right move and, incidentally, pretty much exactly what someone who knows a bit about this market has suggested this week. In a blog post, Philip Rosedale - known as the creator of Second Life - ran through what he thinks VR and AR headsets need before they pick up any serious consumers.
And it's hard not to agree with his conclusions: a lighter headset, the ability to see through the screen, better resolution and the ability to type virtually. Magic Leap has none of those incidentally. ®