This article is more than 1 year old
Non-unicorn $700 e-scooter shop Unicorn folds with no refunds – after blowing all its cash on online ads
Early adopters left out of pocket as winter and Facebook costs kill biz
In a savage blow to the notion of nominative determinism, e-scooter startup Unicorn is shutting down after blowing all its money on Facebook ads.
Unicorn was the brainchild of Tile co-founder Nick Evans, who wanted to capitalise on the scooter trend that's presently rippling across the US and Europe.
Although it's possible to grab an e-scooter for as little as $360, Unicorn wanted to be the Lexus of two-wheelers, touting a premium model with more bells and whistles, including advanced GPS tracking and smartphone-enabled locking. Predictably, it also packed Tile's gadget-finding gear.
For this, Unicorn — which received $150,000 in seed capital from Y-Combinator — charged $699 per scooter. But even this comparatively high price-tag wasn't enough to keep the company afloat.
To add insult to injury, none of its 350 orders will be shipped, and the firm isn't able to provide full refunds for the scooters it failed to deliver. In an email sent to customers and obtained by The Verge, company CEO Nick Statt blamed Unicorn's failure on rampant marketing expenditures, as well as production costs.
We could have continued moving forward and taking more orders and that would continue to fund the business, and if we did that might have been able to deliver the product, but we also may have not been able to sell enough Unicorns, so by doing that we would be risking more people's orders. So we made the very, very difficult decision to stop.
A large portion of the revenue went toward paying for Facebook ads to bring traffic to the site. A portion also went to our manufacturer in the form of a down payment to build the scooters, but unfortunately that down payment cannot be redeemed for a portion of the scooters that we were planning to order.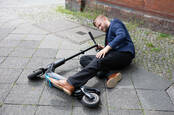 The top three attributes for getting injured on e-scooters? Having no helmet, being drunk or drugged, oddly enough
READ MORE
Unfortunately, the cost of the ads were just too expensive to build a sustainable business. And as the weather continued to get colder throughout the US and more scooters from other companies came on to the market, it became harder and harder to sell Unicorns, leading to a higher cost for ads and fewer customers.
Unicorn aims to liquidate its remaining assets to provide partial refunds, but Evans notes that this is "looking unlikely."
This episode serves to highlight the challenging scooter market. Rented scooters, which have proliferated in most major Western cities, have the advantage of a bevvy of disposable VC cash, which can subsidise the losses and costs of aggressive expansion. Of course, this has its limits, with Lyft and Bird all announcing significant layoffs earlier this year.
Unicorn was in an entirely different business, selling directly to consumers. Its undoing was selling a $699 product in a market flooded with simpler, cheaper Chinese models that cost half as much, and perform the job arguably just as well. And even Nick Statt's reputation — not to mention the vast sums spent on online adverts — wasn't enough to bring in the punters. ®