This article is more than 1 year old
Revealed: NHS England bosses meet with tech and pharmaceutical giants to discuss price list of millions of Brits' medical data
Nine 'commercial models' to access central database mulled at hush-hush meeting
Exclusive Talks to package millions of British medical records into a vast, commercially valuable database that may then be sold on are already underway between NHS England bosses and global giants, documents exclusively obtained by The Register show.
Last month, a cache of leaked files emerged into public view, detailing post-Brexit trade negotiations between Britain and the United States in which access to the UK's national health service was said to be on the table.
Now, hush-hush files and presentation slides seen this week by The Register reveal discussions are already in progress over the future use of patients' personal records and related information, said to be valued at roughly £10bn a year.
NHS England's top brass met big tech and pharma executives at an invite-only event in October this year to discuss collecting patient data to improve healthcare services, fund this whole data-management project, and potentially even profit from it. This record-organizing programme includes the creation of a "single, standardised, event-based, longitudinal patient record" repository for as many as 65 million Brits. Basically, everything you can imagine collected, cleaned up, curated, and searchable, in one place.
The repository will be expected to serve not only the NHS's medical professionals, but also potentially provide companies and researchers real-time access to the medical and genetic records of millions of people, anonymized as necessary, all with a profit to be made, our sources say.
According to documents seen by The Register, attendees of NHS England's Health and Care Data Day, held on 24 October in central London, included NHS England chairman Lord David Prior and chief executive Simon Stevens, and Professor Sir John Bell, the author of the government's Life Sciences Industrial Strategy. Also in attendance were senior folk from NHS Digital, the government's chief scientific adviser Sir Patrick Vallance, NHS Improvement chairwoman Baroness Dido Harding, and the CEO of University Hospitals Birmingham Dr David Rosser.
Private sector involvement in the data-collection project, which our sources say looks like a private finance initiative, was represented by Amazon UK boss Doug Gurr, Microsoft UK CEO Cindy Rose, and Dr Jim Weatherall, veep for data science and AI at drug giant AstraZeneca.
"Our hypothesis is that it is now widely accepted amongst researchers, industry, the NHS and policy makers that NHS health data holds some unique characteristics, such as a large (55 million to 65 million) genetically diverse population, a single payer healthcare system, and access to clinical data," the meeting agenda document from NHS England states.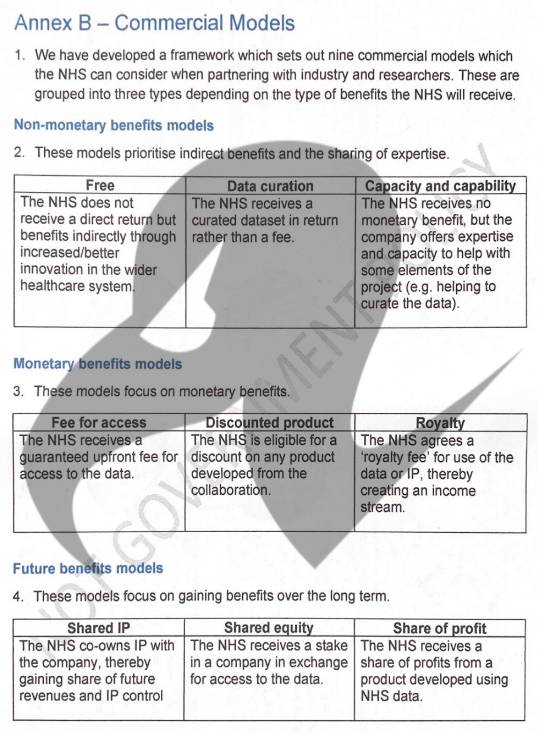 The proposed commercial models under which NHS England data may be made available to companies and researchers
Many "positive initiatives and steps" have been taken to "harness the potential of NHS health data," the meeting was told, but "there is much more to be done." Namely, what can the healthcare community do to make the UK a "world leader in data driven research and innovation."
The objectives for the October day were to "unite" behind a shared vision for UK patients' health data, to talk about making that data available across the NHS to academic researchers and industry, and agree practical steps to deliver this whole shebang.
So, what's in it? Everything
The proposed medical record repository will pull together information from GPs and hospitals, mental health professionals, death and demographics registers, information from the private healthcare sector, prescription records, and environmental and social statistics, as well as data flows from embedded medical devices and patient-supplied and entered details.
NHS Digital said in an "opportunity overview" document, seen by The Register, that it has the "foundations" to create an England-wide "single, national, standardised, event-based longitudinal record for 65 million citizens within two years," that as well as being vital for "effective, efficient and safe patient care," will service the "delivery data and insights to medical research organisations in the NHS, academia and Life Services."
Capturing the "full journey of care from cradle to grave," the gigantic central database's "records can be continuously updated with event information, and their scope/coverage can be continuously enhanced with structured and unstructured data from across the systems and outside it (e.g. wearables, social, geo-spatial, etc)."
The process of integration has already begun through various local, regional, and national initiatives, including Shared Care Records, Local Health and Care Record Exemplars, and NHS Digital's data collections – for example, its Hospital Episode Statistics. Disease registers, clinical audits, and the 100,000 Genomes Project were said to have "created valuable data collections" for the central repository. Now, a focus will be on bringing it all together.
"These fragmented initiatives have served their multiple separate purposes well. They do not, in aggregate, provide standardised, event-based, longitudinal records for each citizen but they provide the foundations on which such records could be built," NHS Digital stated.
In addition to boosting the quality of patient care – for example, improving the diagnosing of diabetes, optimising cancer treatment, and catching prescription errors – the system could be used to monitor "service performance, patient access and other key metrics," in addition to speeding up diagnosis by developing medical AI imaging along with "industry and academia."
Saving money, making money
Under the banner of "Vision and Opportunity," NHS England highlighted a study by consultant EY that claimed the data held by the NHS could be "worth £9.6bn a year through operational savings, improved patient outcomes and economic benefits."
Access to better quality data could improve the success of clinical trials, drug discovery, medical tech, and digital tools as well as operational improvements, said NHS England. But patient data is currently spread across multiple systems, and is of "variable quality."
"A range of sources suggest we need to invest large sums – from £100m to £3bn – over the next few years to make a meaningful dent in curation, and send a clear signal that the NHS is committed to developing a world-leading data offer to the life sciences industry," the body added.
A source familiar with the matter said it has been estimated that phase one of the data-collection project, to "make the data research ready" by cleaning, linking, anonymising, and normalising the data, will cost around £900m.
Meanwhile, a network of seven new Digital Innovation Hubs received £37.5m in government funding in July 2018, from funding now totaling £120m intended to "transform health through data science." The hubs are intended to accelerate the discovery of treatments for diseases such as cancer, heart disease, and asthma through "formal collaborations" between organisations from the "NHS and universities to charities and technology and pharmaceutical companies" by using the aforementioned patient and genomic data.
Each hub will "be expected to provide data, curate the data and offer services for research and innovation."
In line with plans laid out for a single national patient medical record repository, the hubs will be able to use a Health Data Navigator to pull up information on British citizens, as NHS England put it in its document, "direct from source and updated, based on events, as close to real-time as possible."
Work is already understood to be underway on the navigator, and each hub already has several commercial partners. NHS England's documents detailed "introducing technical solutions beyond the scale and reach of any individual project," which could include cloud storage with "analytics and other services layered on top" for "safe, trusted and well governed access to data from a range of different sources and organisations."
NHS to pay triple?
As campaign group MedConfidential wrote about the hub model, commercial partners will pore over the public's data, and even be paid to do this research, and "then charge the NHS time and time again to use the outputs. This way, the NHS first pays for research to be done, and then the NHS pays again and again to use the results."
"Companies gain NHS expertise at NHS expense, and then get to walk out the door with it at the end of the contract, leaving the NHS either beholden to them to or needing to turn to others," the campaigners added.
The UK government's Office of Life Sciences (OLS), meanwhile, had commissioned an external analysis of the "early opportunities" to be had from exploiting patient data, and how this could be funded. In its resulting report, handed to attendees at the London event, the office set out various "commercial models."
"We have developed a framework which sets out nine commercial models which the NHS can consider when partnering with industry and researchers," the dossier stated. "These are grouped into three types depending on the type of benefits the NHS will receive."
Under the proposed "non-monetary benefits models" – ones that "prioritise indirect benefits and the sharing of expertise" – the first of the three types suggested the NHS does not receive a direct return but has "increased/better innovation in the wider healthcare system." Under a second type, the NHS would receive a "curated dataset" from a partner instead of a fee. And under the third free type, a partner company "offers expertise and capacity to help with some elements of the project (e.g. helping to curate the data)."
As for the proposed "monetary benefits models," the NHS would receive a "guaranteed upfront fee for access to the data," or alternatively a discount on "any product developed from the collaboration," or it "agrees of 'royalty fee' for the use of data or IP, thereby creating an income stream."
The so-called "future benefits models" are focused on longer-term boosts, in which the NHS "co-owns" the resulting intellectual property from the raw healthcare data with a purely private enterprise, and so has a share of future sales and IP control. Alternatively, the health service gets a stake in the company in "exchange for access to the data," or the health service takes a "share of the profits, from a product developed using NHS data."
Set phases to stun
Phase one of this data-management programme, spanning the health and life sciences sectors, involves "rich critical data linkage from clinical and other sources," including GP and hospital records, and prescription and social data, as well as information from embedded medical devices, all linked to genomic data from Genomics England "at patient sample level," the document states.
Phase two will include "streamlined information governance policies" as well as data curation, and the use of analytics and trained machine-learning models to "generate insights." Phase three will "capture value," meaning feeding insights to clinicians, and creating a "trusted environment" for researchers in industry and academia. Smaller organizations will get a "sandbox" of data to play in, and synthetic data will be available for modelling.
The OLS's document discusses the longer term costs of the data project, and pointed to Flatiron's investment in the US of more than $250m on "deep" curation of one million cancer patients. It also highlighted the $250m spent in Israel to create a health database covering its nine million citizens for "research and business use."
An investment of up to £3bn will be required at the data-curation stage, the OLS document added, though an initial investment of hundreds of millions if pounds would be "powerful and signal that the UK is committed to its vision of becoming the best place in the world for research and life sciences."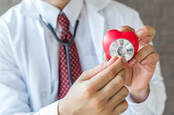 Worldwide, perpetual, irrevocable and royalty-free: Amazon's Alexa NHS contract released
READ MORE
"In the longer-term," it continued, "the requirement would be higher than this initial investment level. However, this initial investment will enable us to start the curation, create value, attract investment and income which can be reinvested in more curation."
The final phase, defined as "support services for research," includes the deployment of "sophisticated consent management systems" – perhaps an unusual order in which to be considering fundamental trustworthiness and legal compliance.
All these points were raised, as highlighted in the documents, for discussion only, and are not official government policy. At least, not yet.
A source claimed the benefit of the data project to the NHS is twofold: making cost savings and service improvements; and potentially selling patient "data in an anonymised form to the highest bidders worldwide."
Phil Booth, of MedConfidential, told us: "While legitimate research is, of course, essential, the primary purpose of a healthcare system is to deliver care.
"In their rush to capitalise on one of the most valuable data assets on the planet, those in charge seem more eager to attract investment, serve industry and promote trade than to ask – or even tell – the patients whose medical histories they're looking to commercialise what it is they are planning to do." ®