Creative cloudy types still making it rain cash for Adobe
Maker of cloudy PDF and services software ... yes, that's Perpetually Dosh Forming
---
It was ho-ho-ho and a kerching for reassuringly expensive graphic design software maker Adobe last night as it danced all the way to the bank, reporting double digit spike in Q4 revenues (PDF) and an upward swing in profit.
The position Adobe has carved for itself means there are relatively few viable alternatives out there, so has managed to pull customers into its cloud suites relatively successfully, despite some initial kicking and screaming from them.
Total revenue for the three months ended 29 November came in at $2.992bn, up 21.4 per cent year-on-year. Subscription sales rocketed to $2.686bn from $2.184bn; product was 11 per cent to $167m; and services edged up by a little less than $8m to $138m.
CEO Shantanu Narayen said "demand for mobile offerings and overall web traffic continued to grow." And he said more than "50 per cent of our cumulative subscribers" were "new to the Creative Cloud franchise".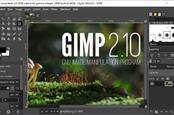 GIMP open source image editor forked to fix 'problematic' name
READ MORE
The Digital Media segment brought in $2.078bn, up 22 per cent. The Creative Cloud suite was given more than a good lick of paint earlier this year with new features to Photoshop, Lightroom, Premier Pro, Illustrator and InDesign, and - lest we forget - the slab dab.
Digital Experience captured $859m of creative types' cash, up 22 per cent, and Publishing turned over $55m in sales, down from $65.4m.
Split by product sector (PDF), Creative Cloud on its own took in $1.74bn in revenues, up from $1.45bn; Document Cloud revenue was $339.3m from $258.9m.
For the year, revenue was $11.171bn, up 24 per cent: Digital Media – which includes services like the Creative SDK, as well as mobile and desktop versions of its Photoshop + creative app chums – leapt to $7.7bn from $6.32bn. Digital Experience – which houses analytics, Adobe's ads platfrom and "customer journey" stalking – grew to $3.206bn from $2.443bn. Publishing, meanwhile, was down marginally to $258.1m from $260.9m.
And the margins on those sales? Adobe managed profit before tax of $957m versus $678.24m a earlier. For the 12 months, it made $3.204bn before the IRS took a slice, up from $2.793bn.
There's gold in them thar mountains of graphic design software and PDF conversion trials. ®