Oracle's financial figures were more or less flat in its latest financial quarter compared to a year ago.
The enterprise IT giant clocked a slight gain in revenues and a slight drop in profit during its second quarter [PDF] of its fiscal 2020, ending November 30. Here's a summary of those numbers, released on Thursday:
Revenues of $9.61bn were up 1 per cent from the year-ago quarter and just short of the $9.65bn estimated by analysts.
Net income of $2.31bn was down 1 per cent from $2.33bn last year.
Earnings per share (non-GAAP) of 90 cents topped the 88 cents predicted by analysts.
Cloud services and license support revenues were $6.8bn, up 3 per cent from $6.64bn in the year-ago quarter.
Cloud and on-prem license revenues of $1.13bn were down 7 per cent from $1.22bn in Q2 of fiscal 2019.
Hardware revenues of $871m represented a 2 per cent drop from last year's $891m haul.
Services revenues were $806m, down 1 per cent from $817m in the year-ago quarter.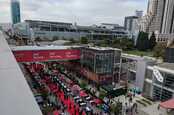 Oracle leaves its heart in San Francisco – or it would do if, you know, Oracle had a heart
READ MORE
"We had another strong quarter in our Fusion and NetSuite cloud applications businesses with Fusion ERP revenues growing 37 per cent and NetSuite ERP revenues growing 29 per cent," top boss Safra Catz said in an effort to polish up the quarterly report.
"This consistent rapid growth in the now multibillion dollar ERP segment of our cloud applications business has enabled Oracle to deliver a double-digit EPS growth rate year-after-year. I fully expect we will do that again this year."
Despite the flat earnings and profit, there was some good news for Catz. The database giant's supremo Larry Ellison confirmed to Wall Street analysts on a conference call that, following the death of co-CEO Mark Hurd, Katz would now officially serve as the sole chief exec of the company having shared the role with Hurd for years.
"We have no plans for having a second CEO, it was an unusual situation," Ellison said of the Hurd'n'Catz tandem. "Mark and Safra were a fantastic team, but we have complete confidence in our existing team."
Oracle shares were down 2.87 per cent, at $54.85 apiece in after-hours trading. ®
Similar topics