This article is more than 1 year old
Xbox Series X: Gee thanks, Microsoft! Just what we wanted for Xmas 2020 – a Gateway tower PC
Redmond tears wrapping on new retro-look gaming console
It's always interesting to see where industrial designers source their inspiration. Tesla, in creating the futuristic CyberTruck, looked to the dystopian world of Blade Runner. Iconic '80s movie Back To The Future directly inspired Nike's self-lacing MAG kicks. And in creating the upcoming Xbox Series X console, Microsoft's muse was presumably a Gateway tower PC from the 1990s.
Sorry, we're burying the lede a bit. Yesterday, at The Game Awards event in Los Angeles, Microsoft formally announced its next-generation console. Previously known as Project Scarlett, the Xbox Series X is expected to arrive before Christmas next year, and will directly compete with Sony's upcoming offering, the PlayStation 5.
Phil Spencer, Microsoft's Head of Xbox, described the Series X as "our fastest, most powerful Xbox", saying it packs eight times the GPU power of the original Xbox One, and double that of the high-end Xbox One X. The console's GPU — which is believed to be from AMD — hits 12 teraFLOPs and can produce 8K video on a 120Hz screen.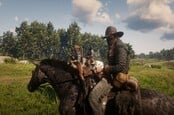 Red Dead Redemption 2 on PC: Howdy buck do you get a solid 60FPS in Rockstar's masterpiece?
READ MORE
Punters will see the impact of this upgrade almost immediately, as the Xbox Series X is the first of Microsoft's consoles to support real-time ray tracing, which promises significantly more realistic lighting effects.
Spencer added that the CPU capability had been boosted four times — although it's not clear if he was referring to the older Xbox One, or the vastly more potent Xbox One X, which can produce 4K HDR video. Moreover, the new console comes equipped with fast NVMe flash storage and GDDR6 memory.
And while he didn't shed much detail about the precise specifications, he did say the firm had signed up 15 studios to produce exclusive games for the console, suggesting Microsoft had learned from its mistakes with the Xbox One.
Sales of Microsoft's current-generation console have long lagged behind the PlayStation 4, with the finger of blame frequently pointed at the lack of platform-exclusive content.
But it was the console's design that raised the most eyebrows. Historically, with very few exceptions, games consoles have sat horizontally. But in the demonstration and trailer video that was posted subsequently, the Xbox Series X sits tall. Squint a bit, and it looks almost like an old desktop PC of yore.
This design comes with thermal management in mind. Ventilation comes via a single fan that allows the console to dissipate heat through a mesh on the top of the device, which Spencer says is no louder than the Xbox One X.
The good news is that, if you want, you can use the device in a standard landscape orientation. That said, it's clear how Microsoft wants punters to use the console. ®