It's 2019 so, of course, this Wells Fargo employee accused of stealing customer cash posed with wads of dosh on Instagram, Facebook
Feds are not amused
A Wells Fargo employee is accused of stealing bank vault deposits – and posting pictures of the alleged purloined loot on Instagram and Facebook.
Arlando Henderson, 29, of North Carolina, was on Friday indicted on 35 criminal counts: 19 counts of theft, twelve counts of making false entries, two counts of financial institution fraud, and one count of embezzlement and misapplication, and one count of transactional money laundering.
According to his indictment [PDF] filed in a federal district court in Charlotte, Henderson swiped money from customer deposits, intended for the vault of a Wells Fargo branch in the US city, on at least 18 occasions over the course of 2019. He had been an employee of the American mega-bank since April.
Prosecutors say the allegedly pilfered money, totaling $88,688, was used in part to purchase a Mercedes-Benz. Henderson concealed the fraud by creating fake deposit documents and bank statements to transfer the deposits to himself, and destroyed documents to cover up the caper, a scam that may have succeeded, had Henderson been able to keep himself off social media, it is claimed.
Specifically, he "made, or caused others to make, false entries in the bank's books and records to cover up the theft," according to court documents.
Meanwhile, prosecutors say, the alleged fraudster decided to brag about his takings by posting pictures and videos to Facebook and Instagram of himself holding the stacks of money he is accused of pinching from the vaults. He also appeared on social media in a white Merc in Hollywood, California. You can catch a look at the suspect with an AK-47, a wad of dosh, and what looks like cannabis in this Instagram rap video.
Henderson was collared on December 4 in San Diego, California.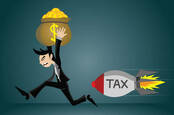 Don't be Russian to judgement but... Bloke accused of $1.5m+ tax filing biz hack, fraud
READ MORE
"The indictment ... alleges that throughout July and August 2019, Henderson used a social media account to post several pictures of him holding large stacks of cash," the US Department of Justice said in announcing the charges.
"On or about July 2019, after Henderson had allegedly stolen more than $70,000 in cash from the bank vault, Henderson made a $20,000 cash down payment on a 2019 Mercedes-Benz, and obtained a car loan for the remaining balance from another financial institution, by providing false information and falsified documents, including falsified bank statements."
Prosecutors claimed Henderson was seen at the ATM of a nearby bank depositing bricks of $50 and $100 bills. The largest amount he is accused of taking in a single heist is $13,450.
In addition to the criminal charges, prosecutors have filed to reclaim the Mercedes-Benz and $88,688 in forfeiture of funds. If convicted, the counts each carry a maximum of 30 years in prison, except for the money laundering count, which carries 10 years in prison.
If he is found guilty, we hope it was worth the likes. ®