Amazon Germany faces Christmas strikes from elf stackers, packers and dispatchers
Season's not much of a miracle for under-pressure workers, says union
Amazon Germany is facing potential strike action at a bunch of its logistics hubs, but is reassuring punters that they will still get their packages in time for Christmas.
Union Verdi has called for workers to down tools at four of Amazon's 13 German distribution centres.
A spokesman for Amazon.de told us: "It's business as usual for Amazon today with our well-paid, dedicated and highly respected teams across Germany doing what they do every day – delivering for their customers."
The majority of Amazon.de staff are not union members, so the impact of Verdi's action will be limited. The union has pushed for strike action at Christmas before. A spokesman for the union told Reuters it wants Amazon to recognise collective bargaining and increase Christmas bonuses for staff under extra stress and working more overtime to deal with the seasonal rush.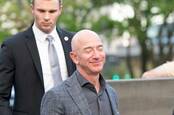 No wonder Bezos wants to move industry into orbit: In space, no one can hear you* scream
READ MORE
Amazon has faced repeated criticism of working conditions in the US, where its warehouses were found to be twice as dangerous as similar facilities run by other companies because of the speed at which people are expected to work.
In the UK its attempt to repaint itself as a model corporate citizen was memorably described in September this year as "complete bollocks" by Barking MP Margaret Hodge, irritated by the firm's ability to reduce its tax bill yet again. Amazon UK paid just £1m tax on its 2018 £75.4m profits, down from £1.7m the year before.
Verdi, which has 2.1 million members, said the strikes are taking place at fulfilment centers in Koblenz, Bad Hersfeld and Leipzig and will continue until Saturday 21st December. Some 800 to 900 staff took industrial action at centres in Rheinberg and Werne last week
A spokesperson at Verdi told us it does not yet have the exact number of particpants for the next wave of strikes. Verdi said Amazon employees are demanding "a collective bargaining agreement which Amazon denies."
The union rep said "Amazon wants to dictate the working conditions arbitrarily and thus denies a collective bargaining agreement negotiated between Amazon and the union ver.di. This is because of the notorious hostile stance Amazon has towards unions and collective bargaining agreements in general.
"A collective bargaining agreement would provide the workers with higher wages and extra pay, [fewer] working hours and more days of vacation.
"The work at Amazon is very demanding, not only physically but as well because of the pressure Amazon exercises upon the workers. Thus, we have sickness absence rates ("Krankenstand") which are much higher than the average sickness absence rate in Germany."
Verdi claimed Amazon had sickness absence rates of between 15 to 20 per cent compared to an average of 4.28 per cent in Germany. ®