Buzz kill: Crook, 73, conned investors into shoveling millions into geek-friendly caffeine-loaded chocs that didn't exist. Now he's in jail
Scammer and pals blew the cash on cosmetic surgery, jewelry, swanky pads, flash motors
---
A 73-year-old fraudster has been sentenced to four years in prison for conspiracy to defraud – after bilking investors out of $2.3m (£1.7m) by convincing them that they were investing in a sure-fire winner: caffeine-infused chocolates for the tech sector.
Barry Schwartz, along with co-conspirators Lisa Bershan and Joel Margulies, set up Starship Snacks Corporation, a US-based biz that was supposed to sell loaded chocolate to caffeine junkies. According to New York district court documents [PDF], the trio promised investors that the snacks were so attractive that both Coca-Cola and energy "drink" slinger Monster were in talks to snap up the confectionery company, but it was all smoke and mirrors.
"Barry Schwartz participated in a conspiracy to defraud investors, telling them their investments were safe and guaranteed when, in fact, he and his co-conspirators had misappropriated investor funds to support their lavish lifestyles," said Geoffrey Berman, US Attorney for the Southern District of New York, earlier this month.
"Schwartz lied about the readiness of his company's products and about the claim that two large multi-national companies were vying to buy the company. Schwartz's house of lies eventually collapsed, bringing financial devastation to many of its victims."
The scam was simple, and depressingly commonplace in these times of stupidly easy venture capital money. The trio promised that any investments would be repaid in full if the product failed to sell, with five per cent interest for good measure, with Bershan guaranteeing the funds. She reassured investors with a picture of herself in a lavish mansion captioned with: "Just a glimpse – my parents sure as hell didn't leave me this."
The trio convinced investors they had had a successful business in the past selling power bars for dogs under the name All American Pet Co. They then pivoted into caffeinated snacks with Starship and sent out samples, which turned out to be bog-standard chocolate with no extra caffeine included, other than what's naturally in the sweet stuff.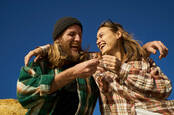 Colorado cryptocoin execs spark up blunt '$722m ponzi scheme' criminal charges after investments go up in smoke
READ MORE
Investors were told they could buy into the firm at $3 per share and that they were negotiating for a one-on-one share swap with Monster when the energy drink manufacturer bought them out at $23 a share, which would lead to a massive windfall. When asked for details, they claimed that they were forbidden from saying any more about the deal due to non-disclosure agreements.
To any sensible investor this would have been a Chinese military parade of red flags but apparently several of them agreed to hand over a total of $2.3m for shares. The trio then variously splurged $39,000 on plastic surgery; over $209,000 on retail purchases, including jewelry, clothes, and interior decorating; over $11,900 at a Mercedes dealership; and hundreds of thousands of dollars on luxury housing.
When people started probing deeper, the fraudsters played for time, saying that now Coca-Cola was in a bidding war for the product. But one investor got suspicious and called in the Feds, and the deal unraveled – but not before the vast bulk of the money had been frittered away.
If he makes it to the end of his four-year sentence, Schwartz will have to spend another couple of years on probation and pay $2,163,214 in restitution. Bershan, 65 at the time she was charged in 2017, pleaded guilty to the same charges and was sentenced to seven years in prison last month, while Margulies, then 72, was found guilty by jury trial and will be sentenced later this month. ®