This article is more than 1 year old
Google security engineer says she was fired for daring to remind Googlers they do indeed have labor rights
Web giant claims she broke rules with pro-union popup code – fellow techies reckon that's rubbish
Google on Friday fired security engineer Kathryn Spiers after she created a Chrome popup notification reminding her colleagues that they have the "right to participate in protected concerted activities."
Spiers claims she was fired for labor organizing, a protected workplace activity.
She says she wrote the code – which generated a notification for Googlers and is for internal use only – after hearing that the internet giant had hired a union-busting consultancy and fired four workers on November 25 who were said to be involved in labor organizing.
"I created a little notification, only a few lines of code, that pops up in the corner of the browser whenever my coworkers visited the union busters' website or the community guidelines policy," she explained on Monday.
Spiers said that part of her job responsibilities included writing browser notification code so that employees receive popup messages to alert them to company guidelines and corporate policies when browsing the internet.
The Chocolate Factory responded by suspending her on the same day it axed the "Thanksgiving Four" and then fired her last week.
The ad biz in September settled two National Labor Relations Board (NLRB) complaints from former employees who claimed the company had fired them for engaging in legally protected workplace speech. The settlement requires Google to post notices in multiple locations affirming the rights of employees to unionize. The pamphlets include a promise that the company will not attempt to interfere with the exercise of those rights.
Employees have been rather vocal in recent years trying to hold the biz to its "don't be evil" motto, even after its parent Alphabet ditched the phrase for "do the right thing." They've protested the company's military work, its now-abandoned plan for a censored search service in China, and its handling of sexual harassment claims, among other things.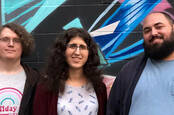 Google ex-employees demand retribution for Thanksgiving massacre
READ MORE
Spiers claims that following her suspension she was interrogated three times about labor organizing activities and asked repeatedly whether she intended to disrupt the workplace.
"The interrogations were extremely aggressive and illegal," she said in her post. "They wouldn't let me consult with anyone, including a lawyer, and relentlessly pressured me to incriminate myself and any coworkers I had talked to about exercising my rights at work."
Google describes the situation differently. Asked to comment, a Google spokesperson provided an email sent by Royal Hansen, VP of technical infrastructure, security, and privacy, to company employees about Spiers' termination.
According to Hansen, Spiers' job was to help secure the internal systems used by Google workers.
"Here, she misused a security and privacy tool to create a pop-up that was neither about security nor privacy," the letter says. "She did that without authorization from her team or the Security and Privacy Policy Notifier team, and without a business justification. And she used an emergency rapid push to do it."
Hansen said that the issue was not that the unauthorized popup was relevant to the NLRB notice or workers' rights. "The decision would have been the same had the pop-up message been on any other subject," the letter says.
The issue for Google, as Hansen tells it, is that Spiers abused the access and trust she had as a security engineer. The Register asked Spiers whether she'd care to respond to Hansen's claims, but we've not heard back.
In a phone interview with The Register, Wendy Musell, a partner at employment law firm Stewart & Musell, expressed skepticism about Google's framing of the issue.
"I think that's going to be a very difficult position for Google to defend," she said, noting that Spiers' account suggests Google treats employee speech inconsistently, depending on whether or not it has to do with union-related activity.
She pointed to Spiers' claim that when an employee changed the default desktop wallpaper during the walkout last year to render the Linux penguin with a protest sign, the change was welcomed.
"If they're only enforcing those rules when employees discuss union activism," she said, "then they will run afoul of state and federal law. If they're enforcing policies consistently, then that's probably allowable."
Even so, she observed, it doesn't look great for Google. "The atmosphere in which this is occurring, hot on the heels of terminating employees for alleged union activity, it starts to look like an anti-union push as opposed to the enforcement of company rules."
On Twitter, several current Google employees have challenged Hansen's claim that Spiers violated policy by deploying the popup code.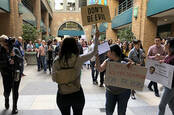 OK, peons, we'll obey the law and let you talk about politics and pay packets, says Google
READ MORE
Filippo Valsorda, a Google cryptographer, said, "Kathryn, @eiais, did not bypass code review. She didn't disrupt anyone's work. She didn't target an individual. She didn't violate any policy I'm aware of. She linked to an NLRB notice from an extension that exists to show links to policies. This only makes sense as retaliation."
Matthew Garret, a Google security engineer, said, "Kathryn was on my team. There was zero reason why she should have asked anyone else on the team for authorization to make changes to this extension. That's not how we do things."
And Liz Fong-Jones, a former Google engineer who left in January after years of employee and ethical advocacy, published a series of tweets explaining that Spiers' code push was nothing out of the ordinary.
Spiers, via Twitter, said, "As tech workers we must take responsibility over the products we build. We cannot let upper management dictate how we use our labor. Google would be a far better firm — smarter and more ethical — if workers had more control over what they create. That's what I was fighting for."
And she had already filed a complaint with the NLRB.
Going forward, however, employees won't be able to use corporate IT systems of any kind to organize: On Tuesday, the NLRB issued a decision "that employees do not have a statutory right to use employers' email and other information-technology (IT) resources to engage in non-work-related communications." ®