This article is more than 1 year old
IBM tailors Swift relationship after 'review of open source priorities'
Big Blue leaves Swift server workgroup, future of Kitura server app framework uncertain
An announcement to the Swift forums indicates IBM is discontinuing its work on server-side Swift. IBM team leader Ian Partridge and technical architect Chris Bailey are leaving the Swift server workgroup.
Apple's Swift language was released in late 2014 and soon became popular as a modern programming language for iOS and Mac applications. In 2015 Apple announced that Swift would be open source – and with a build for Linux as well as for Apple operating systems. "As soon as IBM learned this, we opened up conversations through partnership channels with Apple, and we began working on porting most of the major Foundation libraries in Swift to Linux," said an IBM blog from January this year.
The outcome of that, in February 2016, was Big Blue's release of Kitura, a server-side framework built in Swift. The idea was to provide an easy path for mobile developers with Swift skills to build server components, APIs or web applications using the same language.
Since that time the framework has evolved with Docker images and Helm charts now available for easy deployment to Kubernetes. IBM offers commercial support and said in the aforementioned January blog that it is "working with a bevy of Fortune 500 companies that are preparing to use Swift on the server in some capacity, most of which involves Kitura."
Those plans must now be in doubt. An announcement to the Swift forums concerning the server working group states:
@IanPartridge and @Chris_Bailey let the group know that following a review by IBM of its open source priorities, it has been decided that they will not be continuing to work on Swift in 2020. As a result, they are both standing down from the workgroup.

@IanPartridge will work to hand over responsibilities for the Swift Docker images and suggested a potential new owner from the community.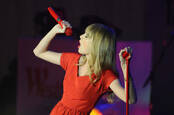 Apple: Trust us, we've patented parts of Swift, and thus chunks of other programming languages, for your own good
READ MORE
Partridge has been, er, swift to update his LinkedIn page, which now says that he is working on "event-driven and reactive microservices using Kafka on Kubernetes". This perhaps is a clue about where IBM's "open source priorities" now lie. There is more future in working directly on K8s than in keeping going with a small niche of server-side Swift developers.
Kitura is open source but the level of activity looks modest, suggesting the synergy between mobile and server-side developers has not delivered the kind of take-up that IBM must have hoped for.
How will Kitura fare if, as seems likely, it will now lack IBM sponsorship? Since it is open source that will be something for the community to determine, but if adoption was slow before, it now looks unlikely to accelerate. ®