Internet TV network Twitch, which lets anyone stream stuff from video games to programming, is being sued for allegedly illegally streaming English Premier League matches in Russia.
Rambler Group, the Russian media giant that owns exclusive rights to show Premier League matches in the Putin-led nation, has filed suit for $2.8bn against the Amazon-owned service, alleging it did not do enough to stop users from showing pirated streams of matches in Russia.
According to Russian news site Kommersant, Rambler says it has observed some 36,000 cases of users illegally showing broadcasts of English Premier League soccer in the former Soviet Union.
"Due to the fact that we detected a significant number of cases of illegal broadcasts on Twitch, we were forced to go to court with Twitch Interactive to stop the spread of pirated broadcasts," reads a translated statement from Rambler Group.
Twitch has yet to respond to a request for comment on the matter.
According to a report from Sportspromedia, Rambler Group acquired the rights to broadcast English Premier League matches in Russia earlier this year following a bidding war with Match TV. Twitch, meanwhile, was acquired by Amazon back in 2014 for $970m.
This is the second high-profile lawsuit involving Rambler Group in as many weeks. The other case, a claim against web server developer Nginx on the rights to its massively popular software, reached a boiling point last week when Russian police raided the Moscow office of Nginx.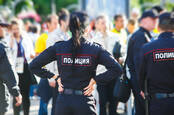 Cops storm Nginx's Moscow offices after a Russian biz claims it owns world's most widely used web server, not F5
READ MORE
That case, which centers on the claim from Rambler that Nginx founder Igor Sysoev was under its employ when he wrote the code for the open-source software back in 2004, before starting his own shop in 2011 and selling the technology to F5 Networks earlier this year. But this may be approaching a resolution, if Russian media reports are to be believed.
A translated report from Lenta.ru claims Rambler has asked the plod to withdraw the criminal complaint against Nginx that led to the police swoop on its offices. Rambler is also said to be looking to resolve the case through direct talks with Nginx management, if possible.
The web server maker, meanwhile, told us:
"Nginx cofounders Igor Sysoev and Maxim Konovalov were interviewed by law enforcement officials, but no employees have been arrested or are currently detained. F5 fully supports our employees and we believe these claims against them do not have merit. Promptly following the event we took measures to ensure the security of our master software builds for Nginx, Nginx Plus, Nginx WAF and Nginx Unit — all of which are stored on servers outside of Russia. No other products are developed within Russia." ®
Similar topics