This article is more than 1 year old
FCC proudly wastes $90m getting data-capped, pricey satellite internet to tiny percentage of US population
On the plus side, this saves cable companies the hassle of laying down fiber
America's communications watchdog, the FCC, has unveiled another piece of its rural broadband master plan – and it comprises blowing $89m on getting a tiny number of people very expensive, data-capped internet.
In return, the lucky 123,000 homes and businesses, out of millions across the US, will be able to get satellite internet access that they can already get, but at a slightly cheaper yet still very expensive price, and with data caps that are going to be slightly higher than usual.
"Across the nation, we're continuing to close the digital divide so that all Americans - no matter where they live - have access to affordable broadband connectivity and the digital opportunity it brings," said FCC chairman and big mug enthusiast Ajit Pai this week.
"And as this eighth round of funding demonstrates, the Connect America Fund Phase II Auction is doing so in a cost-effective way: Because providers competed for Connect America Fund Auction support, finite universal service dollars reached many more homes and businesses at a much lower cost."
By cost-effective Pai means that the regulator will throw about $700 per home and business to five satellite companies to reduce the amount they already charge, although neither those companies, nor the FCC, will say by how much that will be.
By far the greater receiver of this federal largesse will be Viasat, which will receive $87.1m over 10 years to offer service to 121,000 homes and businesses in 17 states. The good news? The service will have to be rated at 25Mbps down, meaning it might actually be useful.
In return the company only needs to offer its services - something that it can already do to 98 per cent of the United States because it is a satellite service. It hasn't said how much that will be but currently it charges $150 a month for its 25Mbps down, 3Mbps up service. So it seems likely that the federal payout will reduce that cost to $78.50 a month.
I see..
If this sounds like a terrible, short-sighted way to get people internet access, that's because it is, but the FCC got a shit-ton of money from spectrum auctions and has promised to spend it on rural broadband, so here it is.
The good news is that throwing money at the problem will do wonders for the FCC's stats for the next decade. Even if Viasat and other can't find people in remote areas that are willing to pay $80 a month for internet access, we're confident that the figures will find their way into reports regardless.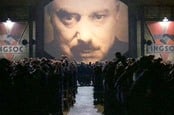 FCC boosts broadband competition by, er, banning broadband competition in buildings
READ MORE
The even better news for cable giants is that they don't have to waste their money putting actual fiber in the ground and so can concentrate on the more profitable areas of the country, using the money they have grabbed from the federal slush fund to maintain artificially high rates for everyone else while providing a subsidized service at what would be the market rate in other countries.
For that perspective $90m of other people's money is a wonderful investment for kicking the issue of actual proper broadband down the road for the next decade.
That's only the tip of the melting iceberg. As the FCC noted in its announcement: "In total, the Connect America Fund Auction last year allocated $1.488bn in support over the next 10 years to expand broadband to more than 700,000 unserved rural homes and small businesses nationwide."
Demonstrating that it really has its finger on the pulse and is using its resources in the most effective way possible, the FCC has also announced huge fines of $151,000 and $453,000 on the operators of two pirate radio stations in Boston. ®